Any questions?

contact@mr-expert.com
Do you own a piece by Annie Leibovitz and would you like to know more about the work and its value? Our Experts will carry out a free appraisal of your photograph, provide you with an estimate of the market price, and help you to sell it at the best price.
Who is Annie Leibovitz?
American portrait artist Annie Leibovitz was born in 1949 in Connecticut. Her father was a lieutenant colonel in the U.S. Air Force, which caused the family to move frequently; she took her first photographs while they were stationed in the Philippines during the Vietnam War. Leibovitz's artistic abilities began to shine through during her school years, she continued to study painting at the San Francisco Art Institute, and continued to hone her camera skills while working at various jobs.
Status, prices and estimates for the photographer Annie Leibovitz
Price of an artist's photograph at auction: €500 – €50,000
If you would like to have a Leibovitz photograph appraised, our photo experts are available for a free appraisal.
A promising start: touring with the Rolling Stones
In 1970, she began working as a photographer at Rolling Stone magazine, and within three years was named the magazine's chief photographer; in 1983, she moved to Vanity Fair. During this decade, other artists, including Richard Avedon and Henri Cartier-Bresson, influenced Leibovitz. She noted that one could have a successful commercial career while pursuing personal projects. Highlights for the photographer include accompanying the Rolling Stones on their tour of the Americas; photographing Joan Armatrading for four days for her 1978 album cover To The Limit; the iconic 1991 image of actress Demi Moore and her portrait of John Lennon and Yoko Ono – this image became one of the most famous Rolling Stone covers, as only hours after Leibovitz took the photo of the couple, Lennon was killed.
Development of personal work and exhibitions
Leibovitz continued to photograph portraits for editorial and advertising campaigns, but during the 1990s she began to focus more and more on personal projects. Her work began to be exhibited in galleries and museums. In 1991, the National Portrait Gallery in Washington D.C. mounted over 200 works in colour and black and white, and a companion book, Photographs, was published: Annie Leibovitz 1970-1990.
Institutional recognition
In 2006, the Brooklyn Museum was the first of many institutions to exhibit Annie Leibovitz: A Photographer's Life, 1990-2005; this exhibition, which chronologically chronicles her commercial and personal work side by side, has visited museums around the world, including the National Portrait Gallery in London in 2008. In addition to celebrities, Leibovitz had the opportunity to photograph British royalty in 2007, as the official portrait photographer for Queen Elizabeth II's first official visit to America in 16 years. As the first American asked to take an official portrait of the King, Leibovitz spoke of the honour she felt. Between 2009 and 2011, Leibovitz diversified her personal work in Pilgrimage, a very personal project. She decided to choose subjects that meant something to her individually, whether they were literal views of living spaces, unique objects or landscapes. Leibovitz is a famous portrait photographer, but Pilgrimage contains no one – it's notes for portraits. In 2011, Hamiltons exhibited twenty-six works from the Pilgrimage series. This exhibition preceded the Smithsonian American Art Museum's 2012 exhibition, the museum subsequently acquired 64 works for its permanent collection.
Recognising Annie Leibovitz's signature
Like many artists, Annie Leibovitz did not sign all of his works. However, you will find below an example of the signatures to give you an idea. Variations of these signatures do exist, do not hesitate to contact one of our experts to formally authenticate a signature.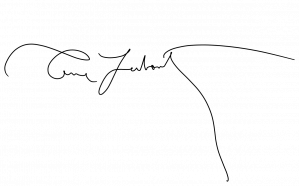 Appraise and sell a photograph by Annie Leibovitz
If you own an Annie Leibovitz photo, ask for a free estimate via our online form.
You will then be contacted by a member of our team of experts and auctioneers to give you an independent view of the market price of your painting. In the event of a sale, our specialists will also advise you on the various options available to sell your work at the best price.