Any questions?

contact@mr-expert.com
Do you own any Banksy's artwork? Are you curious to know what they are worth? Our Experts can provide a free appraisal to give you an estimate of the market price, then help you to ensure the best possible price should you decide to sell.
Quote, price and estimation of the artist Banksy
Average price of a painting by Banksy: 80 – 970 200 €.
Estimate for a drawing: 60 – 95,000 €.
Artist's quotation for a sculpture: 60 – 756 400 €.
Price of a print: 50 – 69 500 €.
Selling price of a miscellaneous object: 30 – 1 200 €.
Who is Banksy?
Banksy is the pseudonym of a renowned English street artist. He is also a painter and director. The artist keeps his true identity secret, leaving his person enshrouded in mystery. He is said to have been born in 1974 around Stoke-on-Trent in England.
First works and celebrity
Banksy did his first works with a group of graffiti artists called Bristol's DryBreadZ Crew (DBZ). He was influenced by the underground scene as well as by his relationships with other artists such as musicians and painters. Banksy is successful in alternative circles and with the media that take an interest in him. He participated in the Walls on Fire graffiti festival in 1998 and created the Mild Mild West mural in the streets of Bristol in 1999.
One year later, he exhibited his work in a restaurant in Bristol. Banksy worked on the film The Sons of Man and also did the cover of Blur's album Think Tank in 2003. Another year later, Banksy had counterfeit £10 banknotes printed where the portrait of the Queen of England was replaced by the effigy of Lady Diana. The banknotes were signed 'Banksy of England' instead of 'Bank of England' and were dispersed during the Notting Hill Carnival.
In 2005, he freed 200 rats at the Crude Oils exhibition where he reworked pieces by Van Gogh and Monet. Banksy founded "Santa's Ghetto" and created paintings to "give hope to Palestinians", notably on the Bethlehem wall and near the Aida camp, where he painted a young Vietnamese girl burnt with napalm, holding hands with Ronald McDonald and Mickey Mouse.
Socially-engaged works and production
In 2006, Banksy sent out a message about the living conditions of Guantanamo prisoners by placing a blow-up doll wearing an orange prison uniform over Disneyland in California. In 2009, a major exhibition as dedicated to Banksy at the Bristol Museum with over 100 of his works. He made a film in 2010, Exit Through the Gift Shop which was shown at the Sundance Film Festival and also at the Berlinale. Banksy directed a series of works on the streets of New York in 2013 while his fans are still desperately trying to work out his identity.
In 2015, for two months, Banksy opened the doors of his amusement park Dismaland, which turned out to be a gigantic exhibition bringing together his works with those of some fifty other artists. Banksy, who is considered an activist, declared after the closure of his exhibition that all the wood used will be sent to Calais for refugees shelters. Similarly, he entered the elephant pens at Bristol Zoo and the penguin pen at London Zoo to write clear messages of animal welfare.
On February 14, 2008, Keep it Spotless sold for €1,230,000 at Sotheby's in New York.
Recognising Banksy's signature
Like many artists, Banksy did not sign all of his works. However, you will find below an example of the signatures to give you an idea. Variations of these signatures do exist, do not hesitate to contact one of our experts to formally authenticate a signature.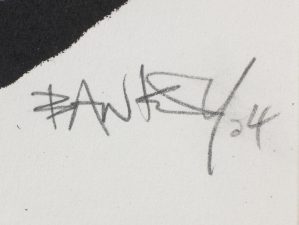 Appraising and selling a Banksy's artwork
If you own a Banksy's artwork, use our online form for a free appraisal.
You will then be contacted by a member of our team of experts and auctioneers to give you an independent opinion of the market price. Should you wish to sell your painting or any other artwork, our specialists will also advise you on the various options available for selling at the best price.