Any questions?

contact@mr-expert.com
Do you own a work by Barnett Newman and would you like to know more about its value? Our Experts will carry out a free appraisal of your painting, to provide you with an estimate of the market price, then assist you to sell at the best price.
Status, estimate and price of the artist Barnett Newman
Price of a painting: 200,000 – 54,000,000 €.
Estimation of a drawing: 330,000 € – 1,600,000 €.
Estimation of a print: 200 – 100,000 €.
If you would like to have a work by Barnett Newman appraised, our experts will take care of everything.
Barnett Newman's early days
Born into a Polish Jewish family on 29 January 1905, Barnett Newman was an American abstract expressionist painter. He died on 4 July 1970 in New York.
Throughout his schooling, he got into the habit of escaping from school and going to the Metropolitan Museum of Art. At the Art Students League of New York art school he attended during his high school years, he met Adolph Gottlieb. During his graduate studies, he turned to philosophy, which he studied at New York University.
The difficult recognition of Barnett Newman
After several failed exams to become a teacher and art professor, Newman focused on the natural sciences and studied at the American Museum of Natural History.
In 1943, he was part of a group protesting the exclusion of modern art by MoMA. Two years later, he exhibited his work in Betty Parsons' gallery, one of the first to promote abstract expressionism. Some time later, he befriended Jackson Pollock.
The year 1948 marked the beginning of a great production in the life of the artist who began the series of "Onement", paintings with vertical lines on a burgundy background. Two years later, he created his first bronze sculpture (Here I) and organised his own exhibition at Betty Parsons, which was very badly received by the critics, who decreed that he wanted to shock, but that this had already been done. He sold only one painting. He would organize a second exhibition in 1951 which was met even less success than the first. Critic Clément Greenberg defended him by declaring that he was a "very important and original" artist.
In 1952, the MoMA, which had decided to exhibit some modern artists, excluded Barnett from its collections. Barnett was deeply wounded and withdrew from the art world for a while.
Barnett Newman: an artist finally recognized
Gradually the tide was turning for Barnett Newman whose works were sold to collectors and exhibited in museums. He wasis of great interest to the young American generation. In the 1960s, he exhibited at Tony Smith's gallery and was finally hailed by critics as "one of the most remarkable living artists".
He tried his hand at lithography and created a collection of 18 engravings which he called "Cantos". In 1965 his works participated in artistic events in Philadelphia and Los Angeles. In the same year, he represented the United States at the Sao Paulo Biennale. The following year, the Guggenheim in New York devoted a solo exhibition to him, where he presented his series of paintings "Stations of the Cross", which he had begun in the 1950s.
He continued sculpting and worked with a foundry specialising in large formats. He created a monumental sculpture entitled "Broken Obelisk". At the very end of the 1960s, he opened his own gallery – the M.Knoedler and Company.
Recognising Barnett Newman's signature
Like many artists, Barnett Newman did not sign all of his works. However, you will find below an example of a signature in order to give you a first idea. Variations of this signature exist: do not hesitate to contact one of our experts to authenticate a signature in a formal way.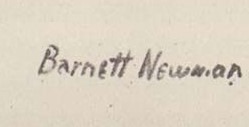 Appraising and selling a painting by Barnett Newman
If you own a painting or any other sculpture by Barnett Newman, ask for a free estimate via our online form.
You will then be contacted by a member of our team of experts and auctioneers to give you an independent view of the market price of your painting. In the event of a sale, our specialists will also advise you on the various options available to sell your work at the best price.