Any questions?

contact@mr-expert.com
Do you own a piece by Childe Hassam and would you like to know more about the work and its value? Our Experts will carry out a free appraisal of your painting, provide you with an estimate of the market price, and help you to sell it at the best price.
Status, estimation and price of the artist Childe Hassam
Price of a painting: 11,000 – 2,000,000 €.
Estimation of a drawing: 1 700 – 990,000 €.
Estimation of a print: 400 – 4,000 €.
If you would like to have a work by Childe Hassam appraised, our experts will take care of everything.
Journey and inspiration
Childe Hassam was an American Impressionist painter, born on October 17, 1859 in Boston and died on August 27, 1935 in New York. He was a member of the Ten American Painters, and painted urban landscapes as well as nudes and still lifes.
Childe Hassam studied art at the Académie Julian in Paris from 1886 to 1889, where he was taught by Gustave Boulanger and Jules Joseph Lefebvre. He was captivated by French Impressionism, particularly the works of Claude Monet.
He is a complete artist who paints in oil as well as in watercolour and is an engraver as well as an illustrator.
Upon his return to the United States, he painted New York buildings in an impressionist style.
In 1920, he was awarded a Gold Medal of Honour to celebrate the lifetime achievement of the Pennsylvania Academy of Fine Arts. He travelled throughout the southern United States and Mexico in the last years of his life.
The end of a career and tributes
Childe Hassam calls modern trends such as cubism and surrealism, promoted by critics, collectors and gallery dealers, "art boobys". Following a loss of interest in the American Impressionist movement, he is considered an abandoned genius until the 1960s.
The Flag Series, made in his final years, is one of his best-known works, consisting of some thirty paintings that he began in 1916. The series was inspired by the parade of American volunteers during the Great War on Fifth Avenue. Being a fervent Francophile, with English ancestry and deeply anti-Germanic, Childe Hassam joined the Allied cause without hesitation.
The Avenue in The Rain, the most famous painting in the series was installed in the oval office of the White House. It was painted by President Barack Obama at the beginning of his presidency.
As for love
In 1884 Childe Hassam married Kathleen Maude Doane, whom he courted for several years. Very little is known about their marriage, apart from the fact that Kathleen managed her husband's travels as well as their home.
The oil painting Old Barn and the Birches sold for $80,000 in March 2015, while the 1926 print Wayside Inn-Oaks in Spring is estimated at $3,000.
Recognising Childe Hassam's signature
Like many artists, Childe Hassam did not sign all of his works. However, you will find below an example of the signatures to give you an idea. Variations of these signatures do exist, do not hesitate to contact one of our experts to formally authenticate a signature.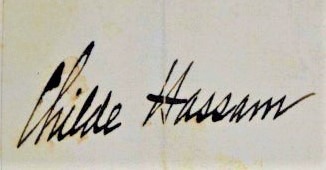 Appraise and sell a painting by Childe Hassam
If you own a Childe Hassam painting or any other sculpture, ask for a free estimate via our online form.
You will then be contacted by a member of our team of experts and auctioneers to give you an independent view of the market price of your painting. In the event of a sale, our specialists will also advise you on the various options available to sell your work at the best price.