Any questions?

contact@mr-expert.com
Do you own a piece by David Park and would you like to know more about the work and its value? Our Experts will carry out a free appraisal of your painting, provide you with an estimate of the market price, and help you to sell it at the best price.
Rating, estimate and price of the artist David Park
Painting: €5,200 – €850,000
Drawing: €500 – €26,000
If you would like to have a David Park work appraised, our experts will take care of everything.
Park and figurative art
David Park is an American painter born in March 1911, a pioneer of the San Francisco School during the 1950s. After the Second World War, he was one of the young people who entered the San Francisco Art Institute, although at that time it was still called the California School of Fine Arts. Park succeeded in reviving an interest in figurative art. At the time, the artist was experimenting with abstract motifs, which he worked on according to their colours, shapes and lines…
The San Francisco School
It was with Elmer Bischoff and Richard Diebenkorn, both painters in the same movement, that Park broke with the pictorial codes that dominated the painting of his time. He was helped in this process by one of the Institute's teachers, Clyfford Still, and together they created the basis for what later became the famous San Francisco School. The work he produced during this period had an impact on the artists who joined the movement later, such as Joan Brown, Nathan Oliveira and Paul John Wonner.
The work before the man
It can be said that Park and his companions began to paint in a style that is closer to objectivity in the representation of reality, in contrast to expressionism. Indeed, he moved from a structural representation of space through the work of form to an interpretation and representation of the world around him based on experiments with colour, texture, temperature… However, Park realised that abstract painting, due to the success it had in the United States in the 1950s by artistic figures such as Jackson Pollock and Clement Greenberg, focused more attention on the figure of the artist than on his graphic work. Park decided to focus on the world around him and to enter into a dialogue with nature through his painting: "I believe that we live in an age that favours the need for novelty, for promoting concepts. I believe that we live in an era that favours the need for novelty, for promoting concepts". He therefore began to paint figuratively throughout the 1950s, a decade in which he also learned that he had cancer.
From oil to watercolour
Park's paintings are mainly based on his memories, he starts by painting what he sees, such as children playing, musicians or his friends. He then painted more elaborate nudes representing classical motifs such as bathers, but with a monumental style. Later, his cancer weakened him to the point where painting with oil became impossible. He finished his work in watercolour until his death in 1960.
The Whitney Museum of Art in New York held a retrospective of his work in 1988.
Recognising David Park's signature
Like many artists, David Park did not sign all of his works. However, you will find below an example of the signatures to give you an idea. Variations of these signatures do exist, do not hesitate to contact one of our experts to formally authenticate a signature.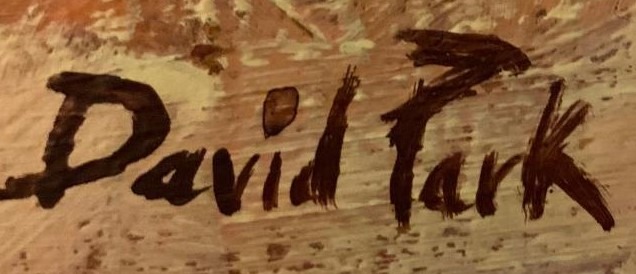 Appraise and sell a painting by David Park
If you own a David Park painting or any other sculpture, ask for a free estimate via our online form.
You will then be contacted by a member of our team of experts and auctioneers to give you an independent view of the market price of your painting. In the event of a sale, our specialists will also advise you on the various options available to sell your work at the best price.