Eduardo Chillida
1924-2002
Any questions?

contact@mr-expert.com
Do you own a piece by Eduardo Chillida and would you like to know more about the work and its value? Our Experts will carry out a free appraisal of your sculpture, provide you with an estimate of the market price, and help you to sell it at the best price.
Status, estimate and price of the artist Eduardo Chillida
Price of a sculpture: 17,000 – 2,000,000 €.
Estimation of a lamp: 20 – 11,000 €
Price of a painting: 28,000 – 96,000 €.
Ask one of our experts to estimate a work by Eduardo Chillida using our online estimate form.
Conversion and immediate success
Eduardo Chillida was a Spanish sculptor and engraver. He was born on the 10th of January 1924 and died on the 19th of August 2002 in San Sebastian. He used metal in his sculptures, as well as wood, iron, granite, steel and concrete.
Eduardo Chillida turned to art after a meniscus injury that ended his career as a goalkeeper at Real Sociedad. He studied architecture in Madrid from 1943 to 1947, which he left to join the Academy of Art in the same city and devoted himself to sculpture.
From 1949, he exhibited at the Salon de Mai and lived at the Cite Universitaire de Paris at the Spanish Pavilion, where he met Spanish artists such as Baltasar Lobo and Pablo Palazuelo. He returned to his hometown in 1950 where he married Phil de Belzunce, his fiancée. There he created his first Ilarik sculpture.
1954 was a turning point for Eduardo Chillida, who had his first personal exhibition in Madrid in 1954 and was commissioned to sculpt the doors of the Basilica of Arantzazu. The Maeght Gallery in Paris decides in 1956 to make him a permanent artist of the Gallery.
Travel and recognition
In 1958, the Venice Biennial exhibited Eduardo Chillida's sculptures at the Spanish Pavilion. This was his first trip to the United States, where he took part in several exhibitions in different museums, including the Guggenheim in New York and the Pittsburg Museum of Art.
In 1962, he participated in the exhibition "Three Spaniards: Picasso, Miro, Chillida" at the Museum of Fine Arts in Houston and had a solo exhibition at the Kunsthalle in Basel. In 1964 he participated in a group exhibition at the Tate Gallery and the following year he exhibited at the Mc Roberts and Tunnard Gallery in London.
Eduardo Chillida has received several awards throughout his career, including the Kandinsky Prize and the Graham Foundation Prize (1961) and the Carnegie Prize (1964).
The Kunsthaus Zürich gave him his first retrospective in 1969 and the Reina Sofia Museum in Madrid devoted a major exhibition to him in 1998.
Eduardo Chillida suffered from Alzheimer's and died of pneumonia in 2002 in his home town. His works are exhibited in major private and public collections around the world.
His son, also a sculptor, exhibited six bronze sculptures in the Louvre from November 2017 to January 2018, as a temporary exhibition.
Recognising Eduardo Chillida's signature
Like many artists, Eduardo Chillida did not sign all of his works. However, you will find below an example of the signatures to give you an idea. Variations of these signatures do exist, do not hesitate to contact one of our experts to formally authenticate a signature.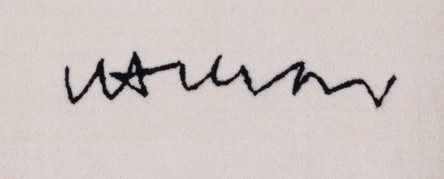 Appraise and sell a painting by Eduardo Chillida
If you own an Eduardo Chillida lamp or any other sculpture, ask for a free estimate via our online form.
You will then be contacted by a member of our team of experts and auctioneers to give you an independent view of the market price of your painting. In the event of a sale, our specialists will also advise you on the various options available to sell your work at the best price.