Edward Burne Jones
1833-1898
Any questions?

contact@mr-expert.com
Do you own a piece by Edward Burne-Jones and would you like to know more about the work and its value? Our Experts will carry out a free appraisal of your painting, provide you with an estimate of the market price, and help you to sell it at the best price.
Artist Edward Burne-Jones's Status, Estimate and Prices
Price of a painting: 2, 400 – 470,000 €.
Price of a drawing: 550 – 707,000 €.
Estimation of a print: 90 – 1,000 €.
Estimation of a photograph: 90 – 1,100 €.
If you would like to have a work by Edward Burne-Jones appraised, our experts will take care of everything.
A self-taught artist
Edward Burne-Jones is a British painter belonging to the Pre-Raphaelite movement. Coming from the nobility, Sir Edward Burne-Jones is a baronet. He was born on 28th August 1833 in Birmingham and died on 17th June 1898 in London.
Edward Burne-Jones lost his mother a few days after his birth and was brought up by his father in Birmingham where he lived until he was 20 years old. He excelled in his studies, especially in mathematics. In his free time, he drew caricatures and small portraits of his teachers and other pupils. Edward Burne-Jones studied at Exeter College, Oxford from 1853, where he met the textile designer William Morris. Two years later, they both travelled to the north of France. On their return, Edward Burne-Jones decided that he was a painter and was inspired by Ovid's Metamorphoses. In 1856, he left Oxford without a diploma and moved to London. A self-taught artist, he found his inspiration in Romantic literature and his first works were pencil and watercolour drawings. In 1860, Edward Burne-Jones married Georgina McDonald, the aunt of the writer Rudyard Kipling. He earned his living as a stained-glass draftsman and became the principal draftsman of the company founded by Morris. In 1862, he travelled to Italy and began to develop his style, mixing Rosetti's Pre-Raphaelism with Classicism and Italian Primitives. In 1870, two scandals would shake his career: the first concerned one of his paintings depicting a nude couple, Phyllis and Demophoon, which forced him to resign from the Old Waztercolour Society, of which he had been a member since 1864. The second scandal concerns an affair he has with one of his models, Maria Zambaco, from whom he is struggling to recover.
Royal recognition
Burne-Jones' work was exhibited at the Universal Exhibition of 1878 in Paris and in 1885 he became a member of the Royal Academy of Painting. However, Edward Burne-Jones exhibited only once and resigned in 1893. He was knighted as a baronet in 1894 by Prime Minister William Ewart Gladstone as one of the major painters of late Pre-Raphaelism. Already ill, he produced the 57 illustrations for the Complete Works of poet and writer Geoffrey Chaucer. This was his last work for William Morris and his Kelmscott Press. Six days after his death, a funeral ceremony was held at Westminster Abbey, upon the request of the Prince of Wales. This is the first time an artist has been honoured in this way. He is buried in St Margaret's Church Cemetery in Rottingdean where he spent his holidays. The Belgian master symbolist Fernand Khnopff worships Edward Burne-Jones, as does the English poet Algernon Swinburne, who dedicates his Poems and Ballads, published in 1866, to the painter. Works by Edward Burne-Jones can be found in the Metropolitan Museum of Art in New York, the Musée d'Orsay in Paris, the Staatsgalerie in Stuttgart and the National Gallery of Victoria in Melbourne.
Recognising Edward Burne-Jones's signature
Like many artists, Edward Burne-Jones did not sign all of his works. However, you will find below an example of the signatures to give you an idea. Variations of these signatures do exist, do not hesitate to contact one of our experts to formally authenticate a signature.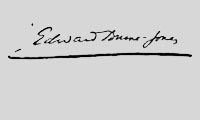 Appraise and sell a painting by Edward Burne-Jones
If you own an Edward Burne-Jones painting or any other sculpture, ask for a free estimate via our online form.
You will then be contacted by a member of our team of experts and auctioneers to give you an independent view of the market price of your painting. In the event of a sale, our specialists will also advise you on the various options available to sell your work at the best price.