Any questions?

contact@mr-expert.com
Do you have a piece by Émile Nolde in your possession and would like to know its value? Our Experts will carry out a free appraisal of your piece, provide you with an estimate of the market price, and then help you to sell at the best possible price.
Quote, estimation and price of the artist Émile Nolde
Price of a painting: 120,000 – 3 700,000 €.
Estimation of a print: 150 – 18,000 €.
Estimate of a drawing: 20,000 – 2 200,000 €.
Price of a sculpture: 4,000 – 18,000 €.
If you would like to have a work by Émile Hansen appraised, our experts will take care of everything.
Emile Hansen…
Émile Hansen, better known as Emil Nolde, was born on 7 August 1867 in a German village near Tønder, a territory that became Danish after WWI. Following his marriage to Danish actress Ada Vilstrup in 1902, he decided to change his identity and live his career as an artist to the full. Coming from a rural and Protestant background, reading the Bible was a recurring activity throughout his life.
After his apprenticeship as a cabinetmaker and his studies of applied arts in Munich and Karlsruhe in 1988-1989, he worked as a teacher from 1891 to 1898 at the Museum of Industry and Crafts in Switzerland. It was during this period that he produced his first painting.
… Moving away from the Impressionist movement
Nolde settled in Paris for 9 months in order to immerse himself amongst avant-garde artists, more particularly Manet, before returning to his native country and painting his favourite subjects: the sea, the earth and the sky. In 1906, during an exhibition at the Arnlod Gallery in Dresden, Nolde's work impressed one of the founding members of the Die Brücke group, Karl Schmidt-Rottluff. Nolde then joined Schmidt-Rottluff for only six months, as he eventually decided that only a state of perfect solitude would allow him to accomplish his work.
Between 1909 and 1912, Nolde worked on his style, moving away from the emergence of Impressionism and drawing inspiration from the myths and figures of Christianity, as seen in La mise au tombeau (1915), La danse autour du veau d'or (1910). He also delved into more urban representations using a wide range of techniques including watercolour and etching.
Nazi collusion and repentance
The artist visited Europe, Italy and Belgium in particular, and was passionate about French, Dutch and Italian painters. He was also one of the first to take an interest in the art by so-called "exotic" peoples. In this respect, he took part in a colonial expedition to New Guinea from 1913 to 1914 during which he brought back dozens of paintings (Figures and Masks 1913) as well as numerous watercolours. This experience had a great influence on the spiritual side of his painting. Despite this, he considered himself a painter from the north, and not a "cosmopolitan" painter. He even went so far as to support the Nazi regime in 1933 and to win the admiration of Goebbels, one of Hitler's main right-hand men.
Despite this, Nolde was exhibited at the 1937 "Degenerate Art" exhibition in Munich, where one of his most famous paintings from the 1920 series of masks Mask IV (1920) was described as "symptomatic" of this degeneration. In 1941, he was forbidden from engaging in any artistic practice whatsoever.
Nevertheless, he continued to paint canvases representing flowers until 1915 so as not to take too many risks and he continued his chromatic research. After the fall of the Nazi regime, Nolde regretted having sympathized with it and returned to his pre-1933 mystic-inspired painting, which he kept up until his death on 13 April 1956.
Recognising Nolde's signature
Like many artists, Émile Nolde did not sign all of his works. However, you will find below an example of the signatures to give you an idea. Variations of these signatures do exist, do not hesitate to contact one of our experts to formally authenticate a signature.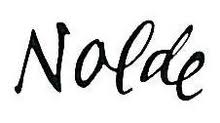 Appraising and selling a piece by Émile Nolde
If you own a piece by Émile Nolde or any other object, ask for a free estimate via our online form.
You will then be contacted by a member of our team of experts and auctioneers to give you an independent view of the market price of your piece. In the context of a possible sale, our specialists will also advise you on the different options available to sell your work at the best price.