Any questions?

contact@mr-expert.com
Do you own a work by Georg Baselitz and would you like to know more about its value? Our Experts will carry out a free appraisal of your painting, to provide you with an estimate of the market price, then assist you to sell at the best price.
Status, estimate and price of the artist Georg Baselitz
Price of a painting: 13 700 – 7,400,000 €.
Estimate of a drawing: 8,100 – 1,000,000 €.
Estimated value of a sculpture: 1,600 – 1,500,000 €.
Estimation of a print: 200 – 8,000 €.
If you would like to have a work by Georg Baselitz appraised, our experts will take care of everything.
Training and first works
Georg Baselitz is a German painter, engraver, sculptor and teacher. He was born Hans-Georg Kern on 23 January 1938 and is today Professor Emeritus at the Berlin University of the Arts.
Georg Baselitz was born under the Third Reich in Saxony, and lived in the German Democratic Republic (East Germany) from 1949. He spent his teenage years in the occupied zone of the Soviet Union and eventually returned to West Germany to live and study. Around the age of 15, Georg painted portraits, still lifes, landscapes, but also religious subjects where his futuristic style began to emerge. In 1956, at the age of 18, he was admitted to the East Berlin School of Fine and Applied Arts where he studied with Walter Womacka and Herbert Behrens-Hangeler, but Georg was expelled two weeks later for "socio-political immaturity". The following year he joined the West Berlin School of Fine Arts and attended Hann Trier's classes. He met his future wife, Elke Malevitch in 1958 and moved to West Berlin where he began his career as a painter, working on his early pieces such as the imaginary portraits Uncle Bernard. Georg Baselitz discovered Pollock, Kooning and Guston at the Museum of Modern Art in Berlin and then went to Amsterdam to admire the works of Soutine and Duchamp in 1959. He took on the pseudonym of Georg Baselitz in 1961 and married Elke the following year, finishing his studies at the Akademie.
Consecration and recognition
Georg Baselitz exhibited for the first time in 1963 in Berlin at the Werner & Katz gallery, but two of his works, The Naked Man and Big Night in the Rain, caused a scandal and were seized by a bailiff for public order offences. The paintings were returned to him two years later, at the end of the trial that followed. He received a scholarship to study for six months at the Villa Romana in Florence, where he produced his series of the Bouts d'animaux. In 1966 Georg Baselitz began his woodcuts which he continued until 1969. He exhibited regularly in Cologne, Basel and Berlin during the following years. He paints a triptych Dans la Foret near Pontaubert-Seurat for the West Berlin Neurological Clinic. He went to New York for the first time in 1975 and attended the Sao Paulo Biennial and the Venice Biennial in 1981. He exhibits at the Royal Academy in London and is recognised as the leader of German Neo-Expressionism with Markus Lupertz. In 1985 he took part in the Biennale de Paris and the Bibliothèque Nationale de France devoted a retrospective of his engravings to him. This year a consecration was organised with over 17 exhibitions in France, the Netherlands, Austria, Great Britain and the United States. He created the sets for Punch & Judy for the Amsterdam Opera in the 90s and continues to have retrospectives all over the world.
Mit Roter Fahne, from 1965, was sold for 8.6 million euros.
Recognising Georg Baselitz's signature
Like many artists, Georg Baselitz did not sign all of his works. However, you will find below an example of a signature in order to give you a first idea. Variations of this signature exist: do not hesitate to contact one of our experts to authenticate a signature in a formal way.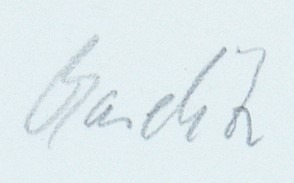 Appraising and selling a painting by Georg Baselitz
If you own a painting or any other sculpture by Georg Baselitz, ask for a free estimate via our online form.
You will then be contacted by a member of our team of experts and auctioneers to give you an independent view of the market price of your painting. In the event of a sale, our specialists will also advise you on the various options available to sell your work at the best price.