Georges Valmier
1885-1937
Any questions?

contact@mr-expert.com
Do you have a piece by Georges Valmier in your possession and would like to know its value? Our Experts will carry out a free appraisal of your piece, provide you with an estimate of the market price, and then help you to sell at the best possible price.
Quote, price and estimation of the artist Georges Valmier
Price of a painting: 11,000 – 479,200 €.
Estimation of a drawing: 120 – 30,000 €.
Estimation of a print: 80 – 1,000 €.
If you would like to have a work by Georges Valmier appraised, our experts will take care of everything.
The beginnings of Georges Valmier
Georges Valmier is a French painter born in 1885. His artistic career encompasses the major currents of modern western painting, from impressionism to abstraction, which he practised from 1921 onwards. He creates all kinds of works of art: for the theatre and ballets with costumes, as well as sets, then fabric models, carpets and several other kinds of objects. As for painting, he produced only a few oils, but many gouaches, which were often preparatory to his works. These gouaches are however the culmination of his overall work, unfortunately shortened by the sudden death of the artist at the age of 52. Some of them are true masterpieces, showing a real appetite for colour and a remarkable inventiveness in the use of shapes.
Visual artist and musician
In addition to practicing the plastic arts with brio, Valmier was also a musician. He sang for prestigious venues at major concerts, tackling the cutting edge of the classical repertoire with Fauré, Ravel, Debussy and Satie. He even had a decisive influence on the career of French composer André Jolivet. In fact, he was born in Angoulême and spent most of his childhood in Montmartre, where his family moved in 1890. His family was passionate about the arts and passed on their love of music and painting to the young Valmier.
Georges Valmier's career path
He did his military service in 1904 for a year, and upon his return discovered Cézanne's work during his retrospective at the Salon d'Automne in 1907. He entered the École des Beaux-Arts where he studied until 1909 under the painter and illustrator Luc-Olivier Merson. Married to Félicité Pessina, he gave birth to his daughter Marthe in 1912. When the First World War broke out, Valmier was mobilised and posted to the city of Toul where he met the artist and philosopher Albert Gleizes. When he returned to Montmartre in 1918, he met the art dealer and publisher Léonce Rosenberg. The latter participated in the diffusion of his work and kept it under his wing for a long period, organising a personal exhibition in his own gallery, "L'effort Moderne", in 1921. Valmier also published his writings in the gallery's bulletin until 1927 and Rosenberg went so far as to have him create the decor for his dining room in the flat housing his art collections. Having become definitively abstract in the 1930s, Valmier participated in the creation of the prestigious Abstraction-Creation group, notably composed of Jean Arp and Kupka. He died of an illness in March 1937 in Montmartre.
Recognising G. Valmier's signature
Like many artists, Georges Valmier did not sign all of his works. However, you will find below an example of the signatures to give you an idea. Variations of these signatures do exist, do not hesitate to contact one of our experts to formally authenticate a signature.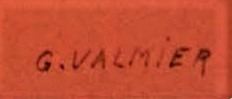 Appraising and selling a piece by Georges Valmier
If you own a piece by Georges Valmier or any other object, ask for a free estimate via our online form.
You will then be contacted by a member of our team of experts and auctioneers to give you an independent view of the market price of your piece. In the context of a possible sale, our specialists will also advise you on the different options available to sell your work at the best price.