Giovanni Domenico Tiepolo
1727-1804
Any questions?

contact@mr-expert.com
Do you own a work by Giovanni Domenico Tiepolo and would you like to know more about its value? Our Experts will carry out a free appraisal of your painting, to provide you with an estimate of the market price, then assist you to sell at the best price.
Status, price and estimation of the artist Giovanni Domenico Tiepolo
Price of a painting: 28,200 – 3,300,000 €.
Price of a drawing: 830 – 730,900 €.
Estimation of a print: 120 – 6,500 €.
If you would like to have a work by Giovanni Domenico Tiepolo appraised, our experts will take care of everything.
Giovanni Domenico Tiepolo, artist born into a noble family
Giovanni Domenico Tiepolo was an 18th century Italian painter and engraver. He was born on 30 August 1727 in Venice and died on 3 March 1804 in the same city. He is the son of Giovanni Battista Tiepolo, a famous artist who worked in several European courts. From an early age, Giovanni Domenico Tiepolo reproduced his father's paintings and accompanied him on his travels.
Giovanni Domenico Tiepolo is a member of the Tiepolo family of artists. This patrician family offers its members, from birth, privileged access to the traditional upper class. These families are among those that have left their mark on the history of art throughout the ages. Giovanni Domenico Tiepolo took advantage of this social advantage to throw himself into the art world and grow his fame as an artist.
In 1772, Giovanni Domenico Tiepolo was appointed Master of the Academy of Venice. He will also be president of this Academy during the year 1783.
Giovanni Domenico Tiepolo, a rococo painter and engraver
Giovanni Domenico Tiepolo trained with several family members, mainly his father. He also worked with Pietro Longhi. He belonged to the European artistic movement known as "rococo". This school succeeded the Baroque movement. Rococo style is characterised by the use of pastel colours, motifs mixing flowers, fruits and ribbons, and curved shapes. Rococo artists expreseds themselves through light themes and joie de vivre.
Giovanni Domenico Tiepolo has several paintings in which he emphasizes illuminations and the contribution of bright colours. There are paintings such as "The Martyrdom of John" or "Saint Philip Neri at Prayer" in which ecclesiastical figures are depicted.
Tiepolo working in a duo
Giovanni Domenico Tiepolo has worked a lot as a duo with his father. Together, they created several church frescoes. These included the frescoes of the Church of St. Faustina and St. Ovitis in 1753 and those of Villa Valmarana in 1757. Both also worked with the King of Spain, Charles de Bourbon. They moved to Madrid and together they created "La Gloria di Spagna" in the Royal Palace and created the stations of the "Via Crucis" for the church of San Filippo Neri.
In 1770 Giovanni Domenico Tiepolo's father died. Giovanni returned to Venice and continued to produce frescoes, paintings and engravings. In homage to his father, he also created an Art Catalogue to record all the works of his family.
Recognising Giovanni Domenico Tiepolo's signature
Like many artists, Giovanni Domenico Tiepolo did not sign all of his works. However, you will find below an example of a signature in order to give you a first idea. Variations of this signature exist: do not hesitate to contact one of our experts to authenticate a signature in a formal way.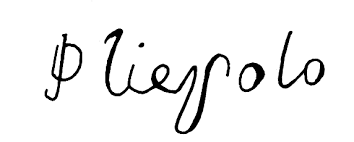 Appraising and selling a painting by Tiepolo
If you own a painting or any other sculpture by Tiepolo, ask for a free estimate via our online form.
You will then be contacted by a member of our team of experts and auctioneers to give you an independent view of the market price of your painting. In the event of a sale, our specialists will also advise you on the various options available to sell your work at the best price.