Henri-Edmond Cross
1856-1910
Any questions?

contact@mr-expert.com
Do you own a work by Henri-Edmond Cross and would you like to know more about its value? Our Experts will carry out a free appraisal of your painting, to provide you with an estimate of the market price, then assist you to sell at the best price.
Status, price and estimation by artist Henri-Edmond Cross
Price of a drawing and watercolour: 200 – 30,000€
Price of a painting: 1 500 – 1 500,000€
Estimate of a print: 100 – 5,000€
Estimate of a sculpture: 400 – 10,000€
If you would like to have a Cross work of art appraised, our experts will take care of everything.
Henri-Edmond Cross, whose real name was Henri Edmond Joseph Delacroix, was a French painter and lithographer born in Douai on 20 May 1856 and died in Saint-Clair on 16 May 1910.
A quick distance with any form of academism
From childhood, a cousin of the family, Dr Soins, saw the young boy's talent and financed his first drawing lessons. Henri Edmond Delacroix trained in Lille with the painters Carolus-Duran and Alphonse Colas, then in Paris with François Bonvin.
His first works, portraits in dark tones, close to realism, were exhibited at the 1881 Salon under his artist name "Henri Cross", a translation of his birth name, to avoid any confusion with the painter Eugène Delacroix.
Henri-Edmond Cross quickly moved away from academicism and became friends with Paul Signac in 1883. The following year he participated in the foundation of the Société des Artistes Indépendants, in order to promote exhibitions without jury or prizes, in reaction to the practices of the official Salon. On this occasion, he met Seurat and many Neo-Impressionist painters with whom he shared many anarchic ideas.
A style in perpetual evolution
Cross did not immediately adopt the neo-impressionist style and remained for a long time under the influence of impressionism and artists such as Manet, Monet or Camille Pissarro. These early dark canvases soon gave way to lighter, outdoor paintings, in which the influence of neo-impressionism became more and more prominent.
Close to Signac and Seurat, Henri Cross's pointillism remains more intuitive, fluctuating. In 1891, the artist first used the divisionist technique, derived from Pointillism, to create the portrait of his wife, The Portrait of Irma Clare in Ball Gown. Henri-Edmond Cross's technique evolved during the 1890s and his works played an important role in the evolution of Pointillism. The painting The Farm, Morning, painted in 1893 and sold in 1998 to the city of Nancy for 4 million francs (over 800,000€) is made up of regular and close coloured dots. A few years later, white areas began to appear in the middle of his paintings between the coloured dots.
Forerunner of Neo-Impressionism
Initially influenced by the subjects of the Impressionists, especially on landscapes, since he preferred seaside landscapes and villages. Henri Edmond Cross was also influenced by realistic painters such as Gustave Courbet and François Bovin.
His rapprochement with the group of divisionists marked the adoption of a new pictorial vocabulary with pointillism. Pointillism is a technique based on a visual effect in which the subject blends into small patches of colour that merge into a range of tones. In 1890 his style continued to evolve: he moved from small regular dots to larger brushstrokes which gave a mosaic effect on his canvases. In 1891, his adherence to Neo-Impressionism came to an end, coinciding with Seurat's death. His technique reconciles nature and pointillist theory (colour theory) with watercolour. He makes an economy of representation in order to favour harmony and beauty, preserve purity and respect the chromatic circle. With Signac, he shares a real fascination for Mediterranean colours and landscapes, real experiments to exalt colour. Henri-Edmond Cross will have a real influence on Henri Matisse and on the Fauvism movement, particularly in terms of mythological figures such as nymphs (motifs frequently found in the movement).
Chromatic research for his political commitment
The artist also produced committed watercolours and lithographs, such as L'Errant in 1896, which depicts a utopian world, testimony to his anarchic political ideas common to the neo-impressionists.
Henri-Edmond Cross settles in the Var and starts to paint Provence at the dawn of the 20th century. His work on light, colour and the division of tones is enriched by it. The artist moves more and more away from realistic subjects to imagine utopian landscapes where the harmony of colours prevails, as in his painting The Pink Cloud (1896). His daring chromatic research will influence Henri Matisse and Fauvism from 1904.
Alas, vision problems and then arthritis quickly slowed down his production, which was well received by the critics of the time, and the artist died of cancer in 1910.
Henri-Edmond Cross's work, scattered in many collections, is not well known today, but he is nonetheless one of the representatives of Pointillism in France and one of the precursors of Fauvism, with highly-valued estimates.
Recognising Henri-Edmond Cross's signature
Like many artists, Henri-Edmond Cross did not sign all of his works. However, you will find below an example of a signature in order to give you a first idea. Variations of this signature exist: do not hesitate to contact one of our experts to authenticate a signature in a formal way.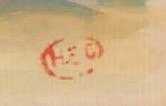 Appraising and selling a painting by Henri-Edmond Cross
If you own a painting or any other sculpture by Henri-Edmond Cross, ask for a free estimate via our online form.
You will then be contacted by a member of our team of experts and auctioneers to give you an independent view of the market price of your painting. In the event of a sale, our specialists will also advise you on the various options available to sell your work at the best price.