Henri Le Sidaner
1862-1939
Any questions?

contact@mr-expert.com
Do you own a work by Henri Le Sidaner and would you like to know more about its value? Our Experts will carry out a free appraisal of your painting, to provide you with an estimate of the market price, then assist you to sell at the best price.
Status, estimation and price of the artist Henri Le Sidaner
Price of a painting: 5,000 – 1,000,000 €.
Price of a drawing: 250 – 80,000 €
Estimation of a print: 50 – 1,700 €.
If you would like to have a work by Henri Le Sidaner appraised, our experts will take care of everything.
The beginnings of Henri Le Sidaner
Henri-Eugène Le Sidaner was a post-impressionist painter born in Mauritius on 7 August 1862 who died in Paris on 16 July 1939. In 1870, his family moved to Dunkirk. He was quick to show a gift for drawing. In 1881, his father, a French Lloyd's inspector, died in a shipwreck.
He obtained a scholarship and went to study in Paris in 1882. There he discovered Impressionism and the works of Édouard Manet. Trained at the École des Beaux-Arts, in 1884 he entered the studio of Alexandre Cabanel, who would prove to be a loyal supporter.
The same year, he moved to the north of France to Étaples and stayed there for nine years. There he met other artists such as Eugène Chigot.
In 1887, he presented paintings depicting shepherdesses at the Salon des artistes français and was appointed an officer of the Academy four years later.
In 1892, he travelled to Italy and Holland where he painted portraits of young Dutch women. He settled in Paris in 1893 and began to form ties with various personalities of Symbolism such as Gabriel Fauré.
Henri Le Sidaner and intimate painting
He exhibited in the Georges Petit gallery in 1895 and turned to a painting with twilight effects. He destroys many of his works.
In 1897 his first solo exhibition was critically acclaimed. Between 1898 and 1900 he stayed in Bruges, which proved decisive in the Symbolist direction of his painting.
At the beginning of the century, he bought a house in Gerberoy, a small town in the Oise region, which triggered an abundance of production. Over a hundred of his paintings represent this intimate theme. From 1900 onwards, his work moved away from the human figure to show only solitary gardens and countryside, chairs and tables awaiting customers. He manages to express a calm vision through the use of a post-impressionist technique and a refined and warm chromatic colouring.
His art takes a more decorative turn as he travels.
Henri Le Sidaner, an inspiring and renowned artist
His pictorial aesthetics inspired Marcel Proust, who evoked the painter on several occasions in his book "In Search of Lost Time".
In 1931, Queen Astrid of Sweden inaugurated a retrospective devoted to the artist in Brussels.
Le Sidaner has won several awards at international exhibitions such as those in Munich and Pittsburgh. He was appointed President of the French Academy of Fine Arts in 1936.
Recognising Henri Le Sidaner's signature
Like many artists, Henri Le Sidaner did not sign all of his works. However, you will find below an example of a signature in order to give you a first idea. Variations of this signature exist: do not hesitate to contact one of our experts to authenticate a signature in a formal way.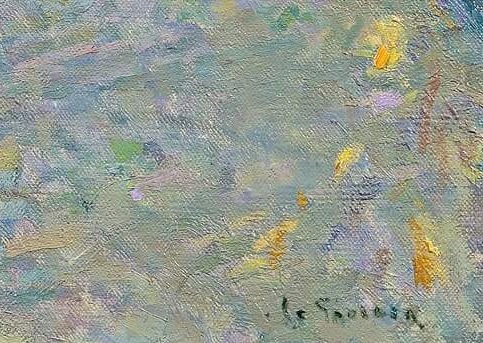 Appraising and selling a painting by Henri Le Sidaner
If you own a painting or any other sculpture by Henri Le Sidaner, ask for a free estimate via our online form.
You will then be contacted by a member of our team of experts and auctioneers to give you an independent view of the market price of your painting. In the event of a sale, our specialists will also advise you on the various options available to sell your work at the best price.