Any questions?

contact@mr-expert.com
Do you own a work by Henry Moore and would you like to know more about its value? Our Experts will carry out a free appraisal of your painting, to provide you with an estimate of the market price, then assist you to sell at the best price.
Status, Estimate and Price of the artist Henry Moore
Price of a sculpture: 6,000 – 8,000,000 €.
Estimate of a drawing: 5,000 – 216,000 €.
Estimation of a print: 20 – 9,000 €.
Price of a photograph: 130 – 11,600 €.
If you would like to have a work by Henry Moore appraised, our experts will take care of everything.
War and studies
Henry Moore is an English sculptor born on 30 July 1898 in Castleford, Yorkshire and died on 31 August 1986 in Much Hadham, Hertfordshire.
Henry Moore received his BA in 1915 and studied to become a teacher at Castleford College. It was during his studies that he was introduced to art and especially sculpture, thanks to the presence and encouragement of his art teacher Alice Goldstick. He was mobilised on the French front during the First World War and took part in the battles of Arras (1917) and Cambrai (1917). On his return from the Great War in 1919, Alice Goldstick helped him to obtain an art scholarship for veterans. Henry Moore enrolled at the Leeds School of Fine Arts, where he completed his studies in three years.
The young artist obtained a scholarship to the Royal College of Art in London in 1921 where he studied sculpture. Henry Moore mainly took Michelangelo, the Italian master, as his model and, like him, sculpted the human body, such as Maternity.
He travelled to Paris in 1923 where he was inspired by the works of Cézanne and, following a scholarship, visited Italy, particularly Florence. It was there that he discovered the paintings of Giotto and Masaccio. Henry Moore was appointed Assistant Professor of Sculpture at the Royal College of Art in 1925, which allowed him to concentrate on his art, as he now lived on a comfortable income.
Recognition and awards
In 1926, Henry Moore participated alongside David Hockney and Patrick Caulfield in the Group Exhibition at Saint George's Gallery in London. Two years later, the sculptor had his first solo exhibition at the Warren Gallery in London, but the press was divided, his works being out of the ordinary and very close to the so-called primitive arts. Henry Moore became head of the Department of Sculpture at Chelsea School of Art in the early 1930s. Influenced by surrealism, he found inspiration in Picasso, Braque and Giacometti. During the war, he did not leave London and drew in shelters during the bombings. In 1936 Henry Moore, with Paul Nash, became a member of the organising committee of the International Surrealist Exhibition. In 1946 the first retrospective of his work was held at the Museum of Modern Art in New York and Henry Moore won the International Sculpture Prize at the XXIV Venice Biennale. In 1968 a major retrospective exhibition was held at the Tate Gallery to mark his 70th birthday. Henry Moore was decorated in France in 1984, in Mexico in 1983 and in Bulgaria in 1985.
The sculpture Reclining Figure: Festival sold for $133,203,051 at Christie's in January 2016.
Recognising Henry Moore's signature
Like many artists, Henry Moore did not sign all of his works. However, you will find below an example of a signature in order to give you a first idea. Variations of this signature exist: do not hesitate to contact one of our experts to authenticate a signature in a formal way.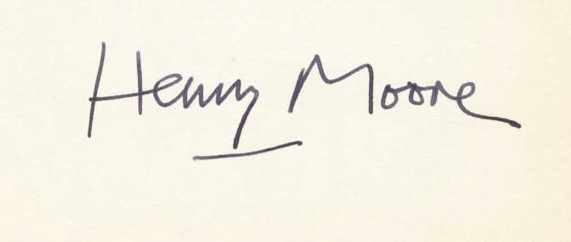 Appraising and selling a painting by Henry Moore
If you own a painting or any other sculpture by Henry Moore, ask for a free estimate via our online form.
You will then be contacted by a member of our team of experts and auctioneers to give you an independent view of the market price of your painting. In the event of a sale, our specialists will also advise you on the various options available to sell your work at the best price.