Any questions?

contact@mr-expert.com
Do you own a work by Jasper Johns and would you like to know more about its value? Our Experts will carry out a free appraisal of your painting, to provide you with an estimate of the market price, then assist you to sell at the best price.
Status, estimate and price of the artist Jasper Johns
Price of a painting: 550,000 – 80,000,000 €.
Estimation of a print: 227 – 1 200,000 €.
Price of a drawing: 300 – 7,000,000 €.
Price of a sculpture: 9,000 – 3,000,000 €.
If you would like to have a work by Jasper Johns appraised, our experts will take care of everything.
Studying and discovering the world of art
Jasper Johns is an American painter, draughtsman and engraver born on 15 May 1930 in Augusta, USA. He is a painter of the neo-Dadaist movement and was at the root of American pop art.
Jasper Johns first studied at the University of South Carolina, but his professors, faced with his talent, encouraged him to move to New York. There he studied at Parsons School of Design in 1949. He was stationed in Japan during the Korean War and returned to New York in 1953. Jasper Johns met then Robert Rauschenberg, they became lovers and were a couple for many years. The duo collaborated on numerous projects, notably with Tiffany stores.
At that time, Jasper Johns destroyed almost everything he was working on and started over with encaustic paint. Inspired by Marcel Duchamp's ready-made works, he created his first American flags, targets and even numbers or letters.
Consecration and renewal
At the age of 25 Jasper Johns created his first masterpieces, such as Flag (1955) at MOMA in New York and Green Target (1955) and Target with plaster casts. These works are in total opposition to the movement of the time: abstract expressionism, with Willem de Kooning and Jackson Pollock as its masters. During his first exhibition in Leo Castelli's Gallery, Alfred Barr, chief curator of MOMA, noticed the young prodigy and bought two paintings from him. Jasper Johns became a star at 28 years old.
On the strength of his success, the young painter let his darker and more literary side express itself. This is when he created Tennyson, a painting in homage to the tragic destiny of a homosexual poet.
His style evolved and in 1959 he creates a series of abstract paintings, but by integrating words into his canvases: highway, shade, etc. Jasper Johns is increasingly influenced by the art of Sonia Delauney, especially her colours and stripes. His love relationship with Raushenberg was growing tenser and more competitive. He integrated more and more objects into his paintings, which was the beginning of his work in the sixties.
The 1960s brought pop art and with it Warhol and Liechtenstein. But this was not Johns' movement, who, like his life companion, belonged to neo-Dadaism.
False Start was sold in 2017 for $80 million, making it the most expensive painting by a living artist ever sold.
Recognising Jasper Johns's signature
Like many artists, Jasper Johns did not sign all of his works. However, you will find below an example of a signature in order to give you a first idea. Variations of this signature exist: do not hesitate to contact one of our experts to authenticate a signature in a formal way.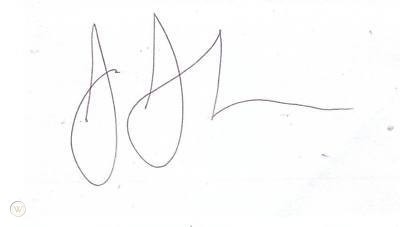 Appraising and selling a painting by Jasper Johns
If you own a painting or any other sculpture by Jasper Johns, ask for a free estimate via our online form.
You will then be contacted by a member of our team of experts and auctioneers to give you an independent view of the market price of your painting. In the event of a sale, our specialists will also advise you on the various options available to sell your work at the best price.