Any questions?

contact@mr-expert.com
Do you own a work by Jean Dufy and would you like to know more about its value? Our Experts will carry out a free appraisal of your painting, to provide you with an estimate of the market price, then assist you to sell at the best price.
Status, price and estimation of the artist Jean Dufy
Price of a painting signed Dufy at auction: 2,000 – 70,000€
Estimation of a drawing or a watercolour: 600 – 50,000€.
Average estimate for a print: 100 – 1,500€.
If you would like to have a painting by Jean Dufy appraised, our painting experts are at your disposal for a free appraisal.
Le Havre, Dufy's place of artistic creation
Jean Dufy was born in Le Havre in 1888 into a family of eleven children. His father was an accountant in a metalworking company and a talented musician. Jean Dufy followed in the footsteps of his brother Raoul Dufy and studied at the École des Beaux-Arts in Le Havre, the home of Fauvism artists, Friesz and Braque also studied there. His home town was a source of inspiration throughout his life, and even though he settled in Paris, he continually made stays in Le Havre which produced exceptional works. In Paris, he frequented the circle of avant-gardists by getting to know Braque, Picasso and Apollinaire. In 1914, he exhibited his watercolours in the Berthe Weill gallery. On his return from the war, he travelled in Europe, but returned to Paris in Montmartre.
His relationship with his brother, a decorator and painter, was paramount to his artistic creation. They collaborated together for the Bianchini Férier fabric painting workshop, and produced decorations for Théodore Haviland porcelain in Limoges which earned him a gold medal for the "Châteaux de France" service in 1925 at the International Exhibition of Decorative Arts. In 1936, Raoul Dufy was commissioned by the Parisian Electricity Distribution Company to paint a 600 m2 painting to the glory of electricity in which he associated his brother Jean. This work was their last collaboration and led to a definitive break-up in 1937.
A sense of colour and rhythm
Jean Dufy's influences were primarily literary, as he drew inspiration from the works of Baudelaire, Mallarmé and Rimbaud. In 1906 during an exhibition in Le Havre, he discovered Matisse, Derain, Marquet, Picasso. The influence of cubism and fauvism could then be found in his pictorial creation, especially his watercolours and in his monumental work "Fée électricité". An outstanding work in the life of Jean Dufy is the discovery of Matisse's Open Window in Collioure. A brilliant colourist, he reinvented his pictorial creation through the harmony of colours in his landscapes. Music permeated his works and even more intensely when he met the musicians of the 1920 comedy Le bœuf sur le toit, from which he was to draw a pictorial theme with orchestras on Parisian stages. He was also inspired by the world of theatre and the circus, from which he brought out bright colours, play of light and rhythm in his works.
Dufy's works: paintings and drawings
Nature morte à la tasse  (1921) Le quai Videcoq 1929
Les musiques de la Garde Républicaine, dirigées par Guillaume Balay au Théâtre des Champs — Élysée, 1924
Paris, le pont des Arts, 1920
Recognising Jean Dufy's signature
Like many artists, Jean Dufy did not sign all of his works. However, you will find below an example of a signature in order to give you a first idea. Variations of this signature exist: do not hesitate to contact one of our experts to authenticate a signature in a formal way.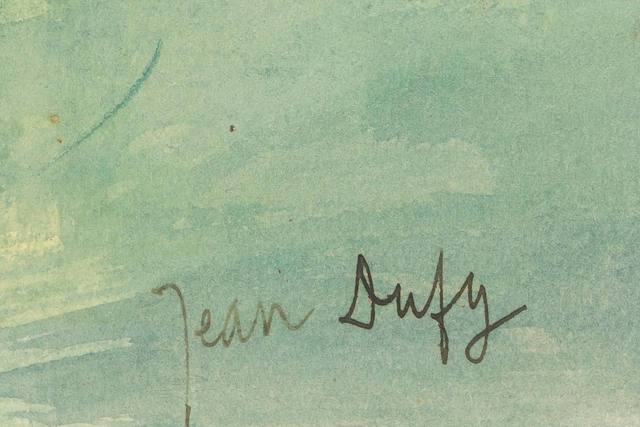 Appraising and selling a painting by Jean Dufy
If you own a painting or any other sculpture by Jean Dufy, ask for a free estimate via our online form.
You will then be contacted by a member of our team of experts and auctioneers to give you an independent view of the market price of your painting. In the event of a sale, our specialists will also advise you on the various options available to sell your work at the best price.