Any questions?

contact@mr-expert.com
Do you own a work by Lin Fengmian and would you like to know more about its value? Our Experts will carry out a free appraisal of your painting, to provide you with an estimate of the market price, then assist you to sell at the best price.
Status, estimation and price of the artist Lin Fengmian
Price of a painting by the artist: 36,000 – 2,400,000 €.
Price of a drawing by the artist: 22,700 – 2,200,000 €.
Estimation of a print: 200 €.
If you would like to have a Fengmian Linen canvas appraised, our experts will take care of everything.
A modern painter
Lin Fengmian was a modern Cantonese painter, born on 22 November 1900 in Guangdong Province and died on 12 August 1991 in Hong Kong. He was awarded the title of The Four Great Academy Presidents, alongside Yan Wenliang, Liu Haisu and Xu Beihong, they are the four pioneers of modern Chinese art.
He is one of the first Chinese painters to have studied abroad. First in 1920 in France at the École Nationale Supérieure des Beaux-Arts in Paris where he studied in Fernand Cormon's studio. Lin Fengmian is at a good school since his teacher also taught Vincent Van Gogh and Henri de Toulouse-Lautrec. He then studied at the University of Arts in Dijon and then visited England and Germany where he moved to Berlin in 1923 to study. He returned to China in 1925 to teach himself what he had learned.
Right the outset of his career, Lin Fengmian tried to link Western styles with Chinese painting, creating his own style in his representations of landscapes and portraits. He uses the calligraphy brush, but also the colours and insolence of the European expressionists. His oil painting The Autumn was presented at the Salon d'Automne in Paris in 1922 and the following year he presented his works in Indian ink.
Teaching and painting
Between the 1920s and 50s, he taught in Zao Wou-Ki, Chu Teh-Chun and Wu Guanzhong, among others, and became president of the National Academy of Arts in Beijing and founded the Hangzhou Academy of Arts.
But in 1952 Lin Fengmian stopped teaching and devoted himself solely to painting, moving to Hong Kong in 1977. Most of his works were destroyed first during the Sino-Japanese conflicts and then during the Cultural Revolution. The Gang of Four, which controls the Chinese Communist Party, violently criticizes his works and in a fit of rage, Lin Fengmian destroys some of his works himself by throwing them down the toilet. But he is still imprisoned for four years for his work. Once free, he spends the last years of his life trying to recreate these lost paintings. His works have been exhibited in China, Hong Kong and Paris.
In May 2013, a Christie's sale in Hong Kong saw the sale of the painting Hamlet painted between 1940 and 1959 for $947,440, three times the appraised value.
Recognising Lin Fengmian's signature
Like many artists, Lin Fengmian did not sign all of his works. However, you will find below an example of a signature in order to give you a first idea. Variations of this signature exist: do not hesitate to contact one of our experts to authenticate a signature in a formal way.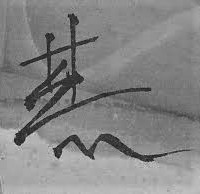 Appraising and selling a painting by Lin Fengmian
If you own a painting or any other sculpture by Lin Fengmian, ask for a free estimate via our online form.
You will then be contacted by a member of our team of experts and auctioneers to give you an independent view of the market price of your painting. In the event of a sale, our specialists will also advise you on the various options available to sell your work at the best price.