Martiros Saryan
1880-1972
Any questions?

contact@mr-expert.com
Do you own a work by Martiros Saryan and would you like to know more about its value? Our Experts will carry out a free appraisal of your painting, to provide you with an estimate of the market price, then assist you to sell at the best price.
Status, estimation and price of the artist Martiros Saryan
Price of a painting by the artist: 13 500 – 640,000 €.
Price of a drawing by the artist: 1 800 – 27,000 €.
Estimation of a print by the artist: 400 €.
If you would like to have a work by Martiros Saryan appraised, our experts will take care of everything.
Martiros Saryan origins
Martiros Saryanwas is an Armenian painter born on February 28, 1880, who founded a modern school of Armenian painting. He was born in what is now part of Russia, in Rostov-on-Don. He finished the Nakhichevan school at the age of 15 in 1895 and then studied at the Moscow Art School from 1897 to 1904, alongside Valentin Serov and Konstantin Korovin, a Russian impressionist painter. Saryan himself was greatly influenced by the works of Paul Gauguin and Henri Matisse. The artist had the opportunity to exhibit his work at numerous exhibitions, notably at the exhibition devoted to the Blue Rose Group, a gathering of symbolist artists in Moscow created in 1906 and closed in 1908.
A committed artist
Saryan thus had the opportunity to discover Armenia and then part of the Russian Empire in depth from 1901. It was also at this time that he composed his first landscapes (Aragats, 1902, In the Armenian village, 1903) which were very much appreciated by the Moscow press.
From 1910 to 1913, the artist travelled extensively in Turkey, Egypt and Iran. He went to the city of Echmiadzin to help refugees who had managed to flee the Armenian genocide within the Ottoman Empire. In 1916, he went to the city of Tiflis, today "Tbilisi", where he met and married his wife Lusik Agayan. It was also in this city that he participated in the organisation of the Armenian Artists' Society.
After the Bolsheviks lost power in 1917, Saryan returned to Russia to live with his family, who moved to Armenia four years later.
Although most of his paintings depict Armenian landscapes, the painter also designated the military coat of arms of the Armenian army as well as part of the scenery of the first Armenian theatre scene.
An award-winning artist
He lived in Paris from 1926 to 1928, but most of his works were destroyed in a fire on the ship taking him back to the Soviet Union. In the 1930s he devoted himself almost entirely to landscape painting and portraits. In those same years he was elected a member of parliament in the USSR and received the distinction of the Order of Lenin, as well as several other awards. He subsequently became a member of the Armenian Academy of Sciences in 1956 and of the USSR Academy of Arts in 1974.
Saryan died in Yerevan in 1972. His home has been converted into a museum dedicated to his work.
Recognising Martiros Saryan's signature
Like many artists, Martiros Saryan did not sign all of his works. However, you will find below an example of a signature in order to give you a first idea. Variations of this signature exist: do not hesitate to contact one of our experts to authenticate a signature in a formal way.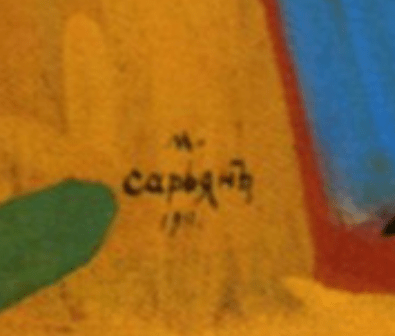 Appraising and selling a painting by Martiros Saryan
If you own a painting or any other sculpture by Martiros Saryan, ask for a free estimate via our online form.
You will then be contacted by a member of our team of experts and auctioneers to give you an independent view of the market price of your painting. In the event of a sale, our specialists will also advise you on the various options available to sell your work at the best price.