Nicolas Roerich
1874-1947
Any questions?

contact@mr-expert.com
Do you own a piece by Nicolas Roerich and would you like to know more about the work and its value? Our Experts will carry out a free appraisal of your painting, provide you with an estimate of the market price, and help you to sell it at the best price.
Status, estimate and price by Nicolas Roerich
Price of a painting: 18,000 – 8,200,000 €.
Estimate of a drawing: 2,100 – 100,000 €
If you would like to have a work by Nicolas Roerich appraised, our experts will take care of everything.
The beginnings of Nicolas Roerich
Nicolas Roerich, or Nikolai Konstantinov Rerikh, was a Russian artist born on 27 September 1874 in St. Petersburg. Together with his wife Helena Roerich, he co-founded the Agni Yoga Society, also known as the "Teaching of Ethics of Life", which is an esoteric and theosophically inspired doctrine. The couple has largely proselytised towards the theosophical society founded by Mrs Blavatsky whose motto is "there is no religion higher than Truth. "(Last angel, 1912). Roerich studied law and later became interested in literature as well as philosophy and archaeology. He also discovered pictorial art, which he studied in Paris with the French painter Fernand Cormon. He also took part in the beginnings of the Russian ballet by designing the costumes and sets for Stravinsky's Rite of Spring.
In 1906 he also made some mosaics for a Russian church in Russia for the family of notables Goloubev.
Nicolas Roerich globetrotter
The artist went to visit New York for the first time in 1920. He settled there with his wife after visiting the country and founded the Master Institute of the United Arts there. They also joined several theosophical groups whose activities directed their lives.
The Roerich family left New York for a five-year trip to Asia, passing through Siberia to Moscow in 1926. The expedition was not without its difficulties as they were arrested by the Tibetan authorities who forced them to live in tents as the temperatures dropped below 0 degrees Celsius. They will succeed with all faith in settling in India and founding the Himalayan Research Institute (The Himalayan Research Institute).
For the preservation of cultural property
Nicolas was nominated for the Nobel Peace Prize by the University of Paris in 1929 and again in 1935. The artist created the "red cross" of art and culture, the Pax Cultura. His work had a real impact as it led the United States and the European Union to sign the Reorich Pact or "Treaty on the Protection of Artistic and Scientific Institutions and Historic Monuments" on 15 April 1935, which protected cultural property in times of war.
Nicolay Reorich died in 1947 and many of his works are kept in the Nicholas Roerich Museum in New York. A collection is also dedicated to his work in the Tretyakov Gallery in Moscow.
Recognising Nicolas Roerich's signature
Like many artists, Nicolas Roerich did not sign all of his works. However, you will find below an example of the signatures to give you an idea. Variations of these signatures do exist, do not hesitate to contact one of our experts to formally authenticate a signature.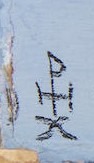 Appraise and sell a painting by Nicolas Roerich
If you own a Nicolas Roerich painting or any other sculpture, ask for a free estimate via our online form.
You will then be contacted by a member of our team of experts and auctioneers to give you an independent view of the market price of your painting. In the event of a sale, our specialists will also advise you on the various options available to sell your work at the best price.