Any questions?

contact@mr-expert.com
Do you own a piece by Norman Bluhm and would you like to know more about the work and its value? Our Experts will carry out a free appraisal of your painting, provide you with an estimate of the market price, and help you to sell it at the best price.
Status, price and estimation of the artist Norman Bluhm
Price of a painting: 350 – 250,000 €
Price of a drawing: 200 – 63,800 €.
Estimation of a print: 320 – 790 €.
If you would like to have a Norman Bluhm work appraised, our experts will take care of everything.
Norman Bluhm's artistic training
Norman Bluhm is an American painter born in Chicago on 28 March 1921 and died in Wallingford on 3 February 1999. He first studied at the Armour Institute of Technology in Chicago under the direction of the German architect Mies van der Rohe. Then, after being a bomber pilot during the Second World War, he decided to give up architecture and enrolled at the Academia de Belle Arte in Florence and then at the École des Beaux-Arts in Paris.
In Paris, he frequented a cultured environment and befriended the painter Zao-Wou-Ki and Joan Mitchell. They were all influenced by the all-over work of Pollock and Kooning. In this way he gradually detached himself from the aesthetics of the École de Paris. Marguerite Duthuit, Henri Matisse's daughter, bought Bluhm's first creations from him.
Norman Bluhm's Abstract Expressionism
Bluhm's paintings are recognisable in that he uses specific brush strokes, uses colour very freely and creates multiple sinuous lines. His canvases show his deep knowledge of art history and often present the human figure in a joyful way, as well as abstract landscapes.
In the 1950s, his works were extremely lively, with the artist making extensive use of circular arcs or crochet lines. The following decade left a greater emphasis on colour, which took its place in the middle of his canvas within interlaced forms while the edges of his canvases remained immaculate. These experiments lead to triptychs and polyptychs with increasingly complex lines in the 1980s.
Critical reception of Norman Bluhm's work
Norman Bluhm has always stayed away from the demands of the art world, which explains why he is not as well-known as his contemporaries such as Sam Francis. The artist did not follow the artistic developments of his time and thus found Pop art devoid of any aestheticism. This makes him take a marginal place in the art history of the 20th century.
Bluhm's work appears in several major institutions such as the Smithsonian American Art Museum in Washington. In addition, the Station Museum of Contemporary Art in Houston organised a retrospective of his late works in 2007. The Houston Press describes the forms used in his paintings as "sexy". Another art magazine highlights the vitality of his paintings, which can only bring joy to the viewer.
Recognising Norman Bluhm's signature
Like many artists, Norman Bluhm did not sign all of his works. However, you will find below an example of the signatures to give you an idea. Variations of these signatures do exist, do not hesitate to contact one of our experts to formally authenticate a signature.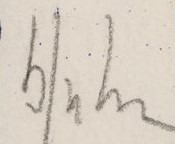 Appraise and sell a painting by Norman Bluhm
If you own a Norman Bluhm painting or any other sculpture, ask for a free estimate via our online form.
You will then be contacted by a member of our team of experts and auctioneers to give you an independent view of the market price of your painting. In the event of a sale, our specialists will also advise you on the various options available to sell your work at the best price.