Norman Perceval ROCKWELL
1894-1978
Any questions?

contact@mr-expert.com
Do you own a work by Norman Perceval Rockwell and would you like to know more about its value? Our Experts will carry out a free appraisal of your painting, to provide you with an estimate of the market price, then assist you to sell at the best price.
Status, price and estimation of the artist Norman Perceval Rockwell
Average price of a signed painting: 8,000 – 1 300,000€.
Estimate of a drawing or watercolour by the artist for auction: 2,000 – 500,000€.
Selling price of a lithograph: 200 – 1,500€.
Who is Norman Rockwell?
Norman Rockwell is an American painter and illustrator known for having illustrated the covers of the Saturday Evening Post magazine from 1916 to 1960. Originally from New York, he entered the Chase School of Fine and Applied Arts in 1908, then in 1910 he trained at the Art Students League. He illustrated his first book the same year.
The star of the Saturday Evening Post
In 1916, he offered three covers to the director of the Saturday Evening Post, which were accepted. From then on, his name was closely associated with this magazine until 1960, when the democratisation of photography supplanted drawing and ended his contract with the newspaper. The magazine nevertheless owes much of its fame to the quality of the illustrations on its covers. In addition to his work for the Saturday Evening Post, Rockwell also illustrated Mark Twain's novels, including the Tom Sawyer series, and painted portraits of Presidents Eisenhower, Kennedy, Johnson and Nixon. His extremely meticulous style is inherited from Howard Pyle, an important 19th-century illustrator, and heralds the hyperrealist movements. Nevertheless, Rockwell art was seriously diminished by the great critics and art historians who considered his Saturday Evening Post covers too honeyed and depicting an idealized American life, going so far as to create the adjective "Rockwellesque".
The Problem We All Live With – a political masterpiece
From 1964 onwards, the opinions of his contemporaries on Rockwell's work underwent a clear shift. He now worked for the magazine Look, for which he produced illustrations directly related to the social events of his time, showing deeper political engagement than before and abandoning the proselytism of carefree and joyful America. It was during this period that he produced his most famous poster, "The Problem We All Live With", in 1964, Norman Rockwell Museum, Stockbridge, depicting a young black American girl, Ruby Bridges, escorted by federal agents on her way to school. This illustration echoes the real event of six-year-old Ruby Bridges entering a white school in New Orleans. was violently attacked by the population, insulted and stoned with projectiles. This political work marked a turning point in the recognition of Rockwell's art.
Rockwell's unique creative process
Rockwell's creative process is well known from two autobiographical books, in which the painter explains that after choosing his subject and making several sketches, he would make a charcoal drawing to size and transfer it to the canvas before starting it. His oil painting, very diluted with petrol, allowed many glazing effects but had disastrous consequences on the conservation of some of his works. From 1930 onwards, Rockwell worked from photographs, and his painting then turned towards photo-realism. It should be noted that the reading of Rockwell's work requires great attention; indeed, the smallest detail is important and refers to an external element, whether textual or societal.
Today, Norman Rockwell is an extremely well-known artist, and an exhibition has been dedicated to him at the Caen Memorial in 2019, in partnership with the Norman Rockwell Museum in Stockbridge, Massachusetts. Most of his works are sold in the United States and their prices vary considerably depending on whether they are lithographs or original works.
Recognising Norman Perceval Rockwell's signature
Like many artists, Norman Perceval Rockwell did not sign all of his works. However, you will find below an example of a signature in order to give you a first idea. Variations of this signature exist: do not hesitate to contact one of our experts to authenticate a signature in a formal way.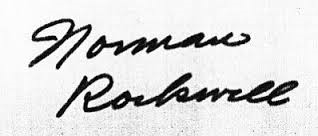 Appraising and selling a painting by Norman Perceval Rockwell
If you own a painting or any other sculpture by Norman Perceval Rockwell, ask for a free estimate via our online form.
You will then be contacted by a member of our team of experts and auctioneers to give you an independent view of the market price of your painting. In the event of a sale, our specialists will also advise you on the various options available to sell your work at the best price.