Any questions?

contact@mr-expert.com
Do you own a piece by Paul Jouve and would you like to know more about the work and its value? Our Experts will carry out a free appraisal of your painting, provide you with an estimate of the market price, and help you to sell it at the best price.
Status, price and estimation of the artist Paul JOUVE
Price of a signed painting: 2,000 – 40,000€.
Average price of the artist for the sale of a sculpture: 1,000 – 80,000€.
Estimate for a drawing or watercolour by the artist at auction: €1,000 – 80,000
Selling price of a print or etching: 600 – 10,000€.
High praise for the animal painter
Paul Jouve was born in 1878 in the Seine-et-Marne region of France. He is a versatile French artist, painter, sculptor, illustrator and ceramist. He was born into a family where art was part of everyday life, his father was Auguste Jouve, a portrait painter, landscape artist and also a photographer. His father transmitted his passion for photography and travel to him and allowed him to meet many artists, and in particular to learn lithography from Henry Patrice Dillon.
His father maintains his son's interest in drawing, he makes him discover the collections of the Parisian museums and Paul Jouve falls in admiration in front of the wild animals of the Jardin des Plantes museum. It is a true vocation that is born, he studies at the School of Decorative Arts while drawing animals in the galleries of the National Museum of Natural History in Paris and the horse market.
From 1893, he exhibited his paintings at the Salon des artistes français and sold some of his lithographs. The real impetus for his career came with the exhibition of his fresco of fauvists at the Universal Exhibition of 1900. He won a gold medal for each of the works he exhibited at the Universal Exhibitions. From then on, he received commissions for illustrations, monumental works, drawings and paintings. Until his death in 1973, he had numerous successful solo exhibitions all over the world.
Paul Jouve's war and travels, curiosity
Paul Jouve is an artist driven by a real passion for wild animals. In 1905 he joined Hamburg and Antwerp in order to get closer to the great zoological parks.
In 1907 he was awarded a scholarship to the Villa Abd-el-tif in Algiers, and these few years represented a prolific creative period. He was very quickly recognised as a master of animal painting, and as such Rudyard Kipling chose him to illustrate his books. Mobilised during the First World War, he kept a notebook of drawings illustrating the horrors of war and later joined the Army of the East.
At the end of the war, his success was resounding in Paris, but he decided to leave for the Far East. From 1920 onwards he was successively named Knight of the Legion of Honour, then Officer and finally Commander of the Legion of Honour. He travelled to Africa, where he carried out a truly innovative work of documentation and discovered the fauna of which he had dreamed.
In Paris, he belonged to the group of animal painters with his friends Jacques Nam, Édouard-Marcel Sandoz, Auguste Trémont, and Gaston Suisse. An active and tireless artist, his sculptures, like his illustrations, arouse the admiration of the public for the representation of these majestic animals. His multidisciplinary talent and his curiosity made him a productive artist, whose works can be found in the collections of many museums.
Recognising Paul Jouve's signature
Like many artists, Paul Jouve did not sign all of his works. However, you will find below an example of the signatures to give you an idea. Variations of these signatures do exist, do not hesitate to contact one of our experts to formally authenticate a signature.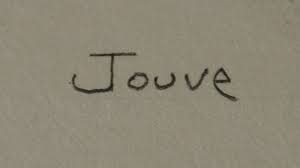 Appraise and sell a painting by Paul Jouve
If you own a Paul Jouve painting or any other sculpture, ask for a free estimate via our online form.
You will then be contacted by a member of our team of experts and auctioneers to give you an independent view of the market price of your painting. In the event of a sale, our specialists will also advise you on the various options available to sell your work at the best price.