Peter Paul Rubens
1577-1640
Any questions?

contact@mr-expert.com
Do you own any Rubens's artwork? Are you curious to know what they are worth? Our Experts can provide a free appraisal to give you an estimate of the market price, then help you to ensure the best possible price should you decide to sell.
Quote, estimate and price of the artist Peter Paul Rubens
Price of a painting: 90,000 – 5,200,000 €.
Estimate of a drawing: 52,000 – 3 500,000 €.
Estimation of a print: 40 – 24,000 €.
If you would like to have a work by Peter Paul Rubens appraised, our experts will take care of everything.
Peter Paul Rubens education and training
Peter Paul Rubens is a Baroque painter from a Protestant family that converted to Catholicism. He was born in Siegen in Westphalia on 28 June 1577 and died in Antwerp on 30 May 1640.
His father died in 1585 and the family moved to Antwerp two years later. At his godmother's house he began to copy paintings, including some by Veronese. He received a humanistic education. At the age of 14, he served as an apprentice to the painter Tobias Verhaecht and then to other well-known painters. In 1598, he joined the Guild of Saint Luke.
Peter Paul Rubens' stay in Italy
His training could only be completed following a stay in Italy. He therefore went to Italy from 1600 onwards. He copied a great deal, notably the paintings of Raphael, Caravaggio and Titian. He settled in Mantua and became court painter to Duke Vincent de Gonzaga. However, he did not stop travelling and thanks to the financial support of the Duke, he travelled to Florence and Rome where he could admire ancient sculptures.
Rubens returned to Italy after a brief stay in Spain for a diplomatic mission where he had the opportunity to admire the collection of King Philip II, which included works by Raphael. In Genoa, he painted numerous portraits. From 1606 to 1608, he lived in Rome and received one of his most important commissions: the high altar of the church of Santa Maria in Vallicella.
He returned to Antwerp in 1608 and was appointed official painter to the sovereigns of the Netherlands the following year. He remained in this position until 1633. He obtained permission to live in Antwerp, not Brussels, and established his studio there at the same time as Jacob Jordaens. Rubens and Jordaens formed the Antwerp School together.
Peter Paul Rubens: a well-established painter
In 1621, Rubens received a commission from Queen Marie de Medici of France to create two allegories celebrating her life and that of her late husband Henry IV to decorate the Palais du Luxembourg. He did not complete the cycle dedicated to Henry IV.
In 1624, he was ennobled by Philip IV of Spain and knighted by King Charles I of England in 1630. In 1628, he spent almost a year in Madrid and produced important works for Philip IV. He also copied numerous canvases by Titian. During this stay, he became friends with the painter Velásquez.
Rubens stayed in Antwerp for the last ten years of his life and never stopped taking private commissions. He also explored other, more intimate subjects such as the representation of his wife and children. His second wife was an important source of inspiration for him.
In 1636, he became the official painter of the court of the Spanish Netherlands and produced The Judgement of Paris inspired Raphael's work.
Recognising Rubens's signature
Like many artists, Rubens did not sign all of his works. However, you will find below an example of the signatures to give you an idea. Variations of these signatures do exist, do not hesitate to contact one of our experts to formally authenticate a signature.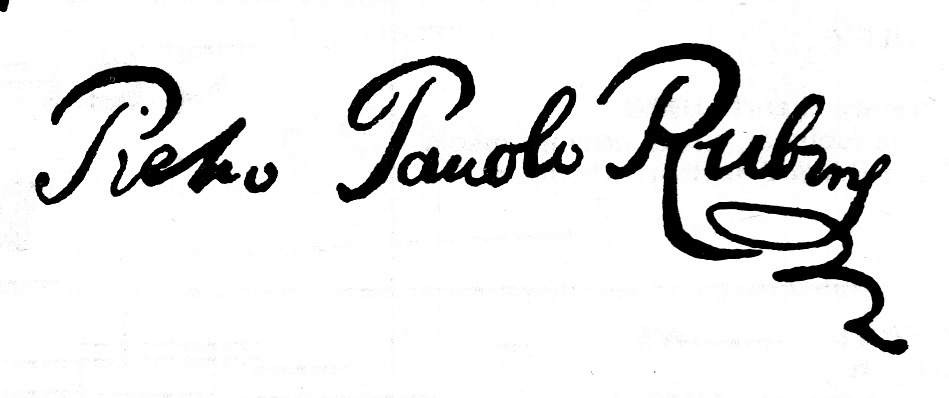 Appraising and selling a Rubens's artwork
If you own a Rubens's artwork, use our online form for a free appraisal.
You will then be contacted by a member of our team of experts and auctioneers to give you an independent opinion of the market price. Should you wish to sell your painting or any other artwork, our specialists will also advise you on the various options available for selling at the best price.