Robert Motherwell
1915-1991
Any questions?

contact@mr-expert.com
Do you have a piece by Robert Motherwell in your possession and would like to know its value? Our Experts will carry out a free appraisal of your piece, provide you with an estimate of the market price, and then help you to sell at the best possible price.
Artist Robert Motherwell's Quote, Appraisal and Price
Painting: 12,000 – 9,300,000 €.
Drawing: 1,500 – 180,000 €.
Print: 90 – 12,000 €.
Tapestry: 760 – 51,000 €
Photography: 70 – 1,300 €.
If you would like to have a work by Robert Motherwell appraised, our experts will take care of everything.
Between Europe and the United States
Robert Motherwell is an American painter, engraver and publisher belonging to the Abstract Expressionist movement. He was born on 24 January 1915 in Aberdeen, Washington and died on 16 July 1991 in Provincetown, Massachusetts.
His surname is of Scottish origin, his parents being Scottish and Irish, Robert Motherwell is an only child. The family moved to California in 1918; the young artist studied at the San Francisco Art Institute and then enrolled at Stanford University in Palo Alto. He received a Bachelor of Arts degree in philosophy from Harvard University in Cambridge in 1937. He wrote a thesis on the diary of the French painter Eugène Delacroix. Robert Motherwell toured Europe during the summer of 1935 and visited Italy, Switzerland, England and France where he discovered the Surrealists and automatic writing. Between 1938 and 1940, he lived in Paris and exhibited for the first time at the gallery of the American Raymond Duncan. His painting ranges from a soothing serenity to a most violent lyricism and he works a lot with black and white, symbols of death and life respectively. He also translates the book by the French painter Paul Signac from Eugene Delacroix to Neo-Impressionism.
Exhibitions and teaching
He returned to the United States in 1940 where Robert Motherwell studied art history at Columbia University. The following year, he met up with exiled Surrealists such as Marcel Duchamp, Max Ernst and Yves Tanguy. He played chess with Ernst, trained in automatic writing with Pollock and published in VVV, a surrealist magazine edited by Duchamp and Ernst. He made his first collages under the encouragement of Peggy Guggenheim in 1943 and participated in 1946 in the exhibition of the "Fourteen Americans" at the MOMA in New York. Two years later, he founded the "Subjects of Arts" school with David Hare, Baziotes and Mark Rothko. He taught at Hunter College in New York from 1950 to 1958 and at the same time represented the United States at the Venice Biennale in 1950 and at the Sao Paulo Biennale in 1961. He was awarded the Gold Medal of Merit for Fine Arts by the Spanish Ministry of Education, Culture and Sports in 1986.
In May 2018, the 1971 painting At five in the afternoon was sold for $12.7 million by the Phillips Company, a sales record for the painter.
Recognising Motherwell's signature
Like many artists, Robert Motherwell did not sign all of his works. However, you will find below an example of the signatures to give you an idea. Variations of these signatures do exist, do not hesitate to contact one of our experts to formally authenticate a signature.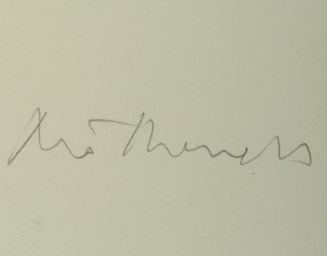 Appraising and selling a piece by Robert Motherwell
If you own a piece by Robert Motherwell or any other object, ask for a free estimate via our online form.
You will then be contacted by a member of our team of experts and auctioneers to give you an independent view of the market price of your piece. In the context of a possible sale, our specialists will also advise you on the different options available to sell your work at the best price.