Any questions?

contact@mr-expert.com
Do you own a piece by Rudolf Ernst and would you like to know more about the work and its value? Our Experts will carry out a free appraisal of your painting, provide you with an estimate of the market price, and help you to sell it at the best price.
Status, price and estimation by the artist Rudolf Ernst
Price of a painting: 180 – 452,540 €.
Estimation of a drawing: 800 – 316,170 €.
If you would like to have a work by Rudolf Ernst appraised, our experts will take care of everything.
The training of Rudolf Ernst
Rudolft Ernst was an Austrian Orientalist painter born on 14 February 1854 in Vienna who died in 1932 in Paris. His father, Leopold, was an architect and member of the Vienna Academy of Fine Arts. Rudolf himself became a pupil of the Academy in 1869 and attended the history painting courses given by the famous German painter Anselm Feuerbach from 1873 to 1876.
In 1877, he took part in the Salon des Artistes français and then left Vienna for Paris due to a disagreement with the administration of the Academy.
Rudolf Ernst and Orientalism
From then on, Ernst participated regularly in this Salon and presented his first orientalist subject in 1885, Dans la Médersa, inspired by a trip to Morocco.
The painter then devoted himself mainly to the orientalist theme which his numerous trips to Morocco, Egypt and Istanbul nourished. His works often focus on one or two central and romantic figures, nestled in fantastic North African mosques painted in warm tones of yellow and orange. His paintings are often compared to those of his friend, the orientalist painter Ludwig Deutsch, who took the same courses as him at the Vienna Academy.
Ernst's characters are usually in costume and depict sentimental scenes from everyday life. He depicts harem guards, princes, merchants and elegant women reclining on luxurious terraces. He depicts instruments, decorative objects and various materials, such as marble or silk, with a constant attention to detail, even making his audience feel the exotic atmosphere of his works. He also painted portraits of important figures of the Ottoman court.
Rudolf Ernst, a well-known and highly regarded artist
Rudolf Ernst takes part in the 1889 World Exhibition, for which he receives a bronze medal. At the World Fair of 1900, he receives a medal of honour.
During exhibitions at the Salons, the painter met with great success, especially with American clients who were fond of large formats and orientalist themes.
On the occasion of an auction held in April 2008 at Sotheby's in New York,  a work by  the artist whose subject was The Fountain of Ahmed III, Constantinople was sold for over €815,000, making this auction a record sum for the painter. This painting had the particularity of depicting an exterior setting.
Recognising Rudolf Ernst's signature
Like many artists, Rudolf Ernst did not sign all of his works. However, you will find below an example of the signatures to give you an idea. Variations of these signatures do exist, do not hesitate to contact one of our experts to formally authenticate a signature.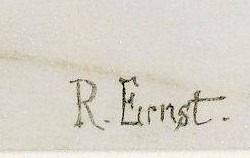 Appraise and sell a painting by Rudolf Ernst
If you own a Rudolf Ernst painting or any other sculpture, ask for a free estimate via our online form.
You will then be contacted by a member of our team of experts and auctioneers to give you an independent view of the market price of your painting. In the event of a sale, our specialists will also advise you on the various options available to sell your work at the best price.