Any questions?

contact@mr-expert.com
Do you own a work by Walasse Ting and would you like to know more about its value? Our Experts will carry out a free appraisal of your painting, to provide you with an estimate of the market price, then assist you to sell at the best price.
Status, estimation and price of the artist Walasse Ting
Price of a painting by the artist: 4,800 – 37,500 €.
Estimation of a print by the artist: 200 – 900 €
Estimation of a drawing by the artist: 2,300 – 14,900 €.
Estimation of a sculpture by the artist: 2,300 – 8,600 €.
Who was Walasse Ting?
Walasse Ting is a painter and poet born in 1929 in Wuxi, mainland China and died on 17 May 2010 in New York. Of Chinese origin, he was inspired by his culture to create his works. Animated by the vitality of women, fauna and flora, Ting shares his vision of the magical world and is driven by the passion and beauty of life. He moved to Paris in 1952 and met artists from the avant-garde group CoBrA.
He lived in New York and took Pop Art and Abstract Expressionism to work on his own abstract art in the 1970s: popular figurative art. He won the Guggenheim Fellowship in 1970 in the Drawings category.
He moved to Amsterdam in the 1990s. Seduced by its canals, its global poetry and the jovial atmosphere of the city, he decided to stay there with his children after the death of his wife. He moved back to New York where he died.
What were his influences?
He was mainly influenced by Abstract Expressionism and Pop Art during his trip to the United States, but it is mainly Chinese culture that remains the primary expression of his works. He uses calligraphy and represents femininity with vitality and strength. His style can be recognised by the shape of the flowers, animals and women he draws. The poetry of his childhood and the tales that were passed down to him are present in each work. His style, original and atypical, gives his works a great singularity.
He uses Chinese cultural codes and representations of his culture, notably with the representation of fish and geishas, which are an integral part of his artistic reflection.
Ting admired Matisse's work and the flat areas of colour in his works can be directly referred to.
Some of Ting's main works
Walasse Ting's status is between 27,000 and 800 euros. The artist's works are auctioned all over the world.
The work Six Geishas (1981) measures 81.3 x 94 cm and was estimated at 27,000 euros (work produced in New York).
Woman Eating Wartemelon (1984) is estimated at 54,000 euros.
Other published works are cheaper, such as Fish (1982), which is estimated at around 800 euros.
Recognising Walasse Ting's signature
Like many artists, Walasse Ting did not sign all of his works. However, you will find below an example of a signature in order to give you a first idea. Variations of this signature exist: do not hesitate to contact one of our experts to authenticate a signature in a formal way.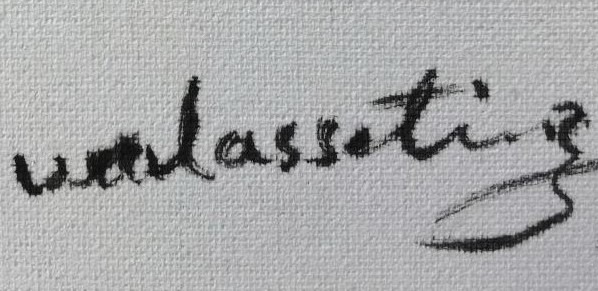 Appraising and selling a painting by Walasse Ting
If you own a painting or any other sculpture by Walasse Ting, ask for a free estimate via our online form.
You will then be contacted by a member of our team of experts and auctioneers to give you an independent view of the market price of your painting. In the event of a sale, our specialists will also advise you on the various options available to sell your work at the best price.