Any questions?

contact@mr-expert.com
Do you own a piece by Wayne Thiebaud and would you like to know more about the work and its value? Our Experts will carry out a free appraisal of your painting, provide you with an estimate of the market price, and help you to sell it at the best price.
Status, estimation and price of the artist Morton Wayne Thiebaud
Price of a painting by the artist: 25,000 – 3 300,000 €.
Price of a drawing by the artist: 9,800 – 530,000 €.
Estimation of a print: 820 – 270,000 €.
If you would like to have a work by Morton Wayne Thiebaud appraised, our experts will take care of everything.
The beginnings of Morton Wayne Thiebaud
Morton Wayne Thiebaud is an American painter from a French family, born in Arizona on November 15, 1920, and classified as a Pop Art painter.
During his teenage years, he did an internship at the Disney studios and then went to study at a technical school. For 11 years from 1938, he worked as a cartoonist in California and then in New York.
In 1949 he studied in San Jose and then in Sacramento where he obtained his bachelor's degree and then his master's degree in 1952. Immediately after, he began teaching at the Sacramento Municipal High School. From 1960 to 1970, he was an assistant professor at the University of California and made a lasting impression on his students.
Morton Wayne Thiebaud and the search for a new art form
This was when he spent time in New York and met abstract artists such as Willem De Kooning. From there, he started a series of small paintings with the reproduction of food as a central subject, which he reduced to schematic forms. He continued this work and founded the Artist Cooperative gallery together with other artists.
His first solo exhibition dates back to 1960 and was held at the Museum of Modern Art in San Francisco and in a gallery in New York. He presents himself as an illusionist painter. The following year he met the New York gallery owner Allan Stone who represented him until his death in 2006. His gallery exhibited many artists, among whom were the leading representatives of Pop Art.
In 1962, the Pasadena Museum of Art organised an exhibition entitled "New Everyday Painting", which, in addition to Thiebaud, included artists such as Roy Lichtenstein and Andy Warhol, and which is considered today to be the first American Pop Art exhibition.
Morton Wayne then turned more to figurative art where his leaning figures are heavily emphasised. In 1994, he was awarded a medal by US President Bill Clinton.
Morton Wayne Thiebaud, a precursor of Pop Art
Thiebaud's art is thus characterised by paintings depicting consumer products such as cakes and pastries. His works predate those of artists of the Pop Art movement, which suggests that Morton Wayne was the forerunner of the trend and had a great influence on them. He used bright colours and a characteristic shaded line that outlines objects.
He also painted landscapes as well as characters well known to the general public such as Mickey.
Recognising Wayne Thiebaud's signature
Like many artists, Wayne Thiebaud did not sign all of his works. However, you will find below an example of the signatures to give you an idea. Variations of these signatures do exist, do not hesitate to contact one of our experts to formally authenticate a signature.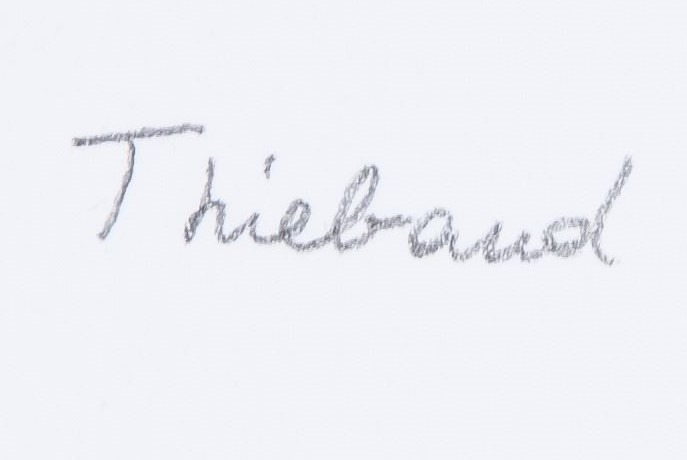 Appraise and sell a painting by Wayne Thiebaud
If you own a Wayne Thiebaud painting or any other sculpture, ask for a free estimate via our online form.
You will then be contacted by a member of our team of experts and auctioneers to give you an independent view of the market price of your painting. In the event of a sale, our specialists will also advise you on the various options available to sell your work at the best price.