Any questions?

contact@mr-expert.com
Do you own a work by Yves Tanguy and would you like to know more about its value? Our Experts will carry out a free appraisal of your painting, to provide you with an estimate of the market price, then assist you to sell at the best price.
Status, estimation and price of the artist Yves Tanguy
Price of a painting: 61,000 – 5 200,000 €.
Estimate of a drawing: 4,000 – 150,000 €.
Estimation of a print: 180 – 14,000 €.
The painter Yves Tanguy is the surrealist par excellence. His compositions, with their bizarre forms, gave surrealism the aesthetic codes that characterise it today. If you have a work by Yves Tanguy, our experts would be happy to carry out an appraisal .
A Breton in the United States
Yves Tanguy was born in Paris on 5 January 1900 to Breton parents. He grew up in the French capital and spent his summers in Finistère. His youth was tinged with tragedy. He lost his father in 1908 and then his brother during the Great War. After a short career as a sailor and then his military service, Yves Tanguy stumbled upon Le cerveau de l'enfant, a painting by Giorgio de Chirico. Completely enthralled by de Chirico's work, he decided to become a painter and joined the Surrealists. Following first solo exhibition in Paris in 1927, Yves Tanguy quickly exhibited all over the world. At the end of the 30s, he met American painter Kay Sage and settled with her in the United States. Having become an American citizen, Yves Tanguy travelled extensively and knew a very prolific artistic period. However, a cerebral haemorrhage suddenly ended his days on January 15, 1955.
From the coasts of Brittany to the confines of the subconscious mind
Although Chirico introduced Yves Tanguy to painting, Tanguy would develop a unique style that would evolve throughout his career. Self-taught, Yves Tanguy was initially inspired by Jérôme Bosch, Lucas Cranach and Paulo Uccello. From these Renaissance masters, the Breton tried to imitate the luminous tones and a certain sense of perspective. Influenced by psychoanalysis, Yves Tanguy began to paint starting with decor and shadows. The unreal forms produced were presented as the pure expression of the unconscious. After he left for America, Yves Tanguy adopted a warmer palette inspired by the landscapes of his adopted country. Nevertheless, the Brittany of his childhood remained a central theme of his work.
Yves Tanguy's main works
Maman, Papa est blessé (1927) is emblematic of Yves Tanguy's early work. This enigmatic work, both abstract and figurative, refers to the ambiguity innate to the best of surrealism. Produced in 1942, Divisibilité indéfinie (Undefined Divisibility) challenged us with its incoherent forms, while at the same time refraining from delivering a blatant message. This painting perfectly reflects Yves Tanguy's creative process, which drer its ideas from his subconscious. Produced towards the end of his life, Multiplication des Arcs (1954) revisits motifs dear to the artist. The painting depicts a dreamlike landscape under a threatening sky. However, despite a profusion of elements, nothing stands out, nothing stands out. Yves Tanguy seems to evoke the isolation born of the crowd, like a counterpart to the solitude created by the void in his early paintings.
Yves Tanguy, who lived in the shadow of Dali, was nevertheless a master of surrealism. Today, his paintings can be found in the greatest museums and are highly sought after. If you would like to make an estimate of the painter Tanguy Yves, our experts will take care of everything.
Recognising Yves Tanguy's signature
Like many artists, Yves Tanguy did not sign all of his works. However, you will find below an example of a signature in order to give you a first idea. Variations of this signature exist: do not hesitate to contact one of our experts to authenticate a signature in a formal way.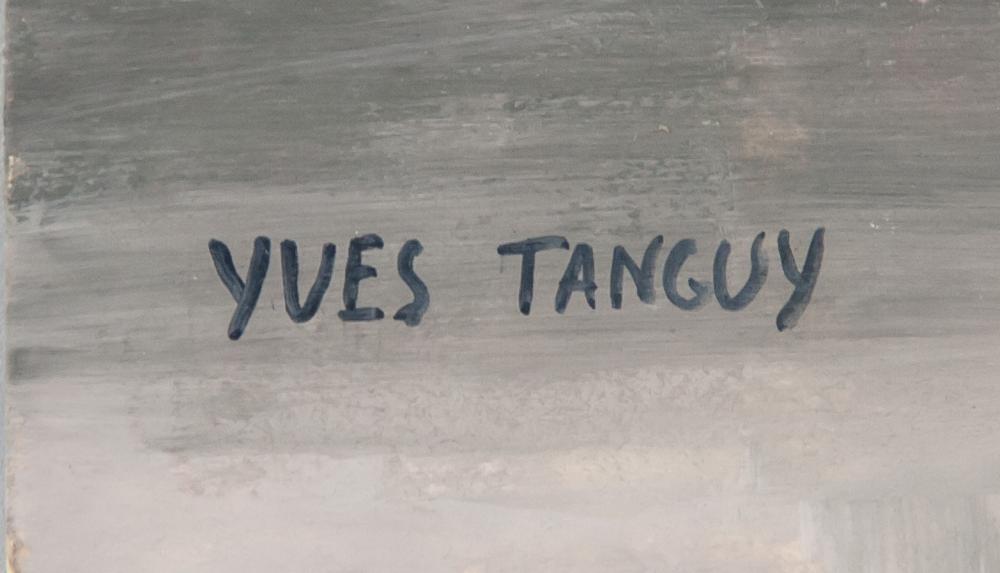 Appraising and selling a painting by Yves Tanguy
If you own a painting or any other sculpture by Yves Tanguy, ask for a free estimate via our online form.
You will then be contacted by a member of our team of experts and auctioneers to give you an independent view of the market price of your painting. In the event of a sale, our specialists will also advise you on the various options available to sell your work at the best price.