Abdur Rahman CHUGHTAI
1897-1975
Any questions?

contact@mr-expert.com
Do you own a piece by Abdur Rahman Chughtai and would you like to know more about the work and its value? Our Experts will carry out a free appraisal of your painting, provide you with an estimate of the market price, and help you to sell it at the best price.
Status, price and estimation of Abdur Rahman CHUGHTAI
Artist's rating for the sale of a drawing or watercolour: 1,000 – 40,000€.
Selling price of a print or etching: 200 – 6,000€.
An artist recognised by his country
Born in 1894 in Lahore, Abdur Rahman Chughtai came from a family of craftsmen, architects and decorators for several generations. He was fortunate enough to study at a British foundation art school in Lahore, the Mayo School of Arts (now the National College of Arts) after attending the Railway Technical School in Lahore.
He then became a photographer and drawing teacher for a while, and later chief instructor in chromolithography at the Mayo School. His first painting appeared in 1916 in the Modern Review magazine, and he began exhibiting in 1920 at the Punjab Fine Art Society, then at the Indian School of Oriental Art.
Abdur Rahman Chughtai will be considered since the independence of Pakistan in 1947 as a famous representative of the art of Pakistan, whose paintings are given to many heads of state during their visit like Elizabeth II, who counts among his admirers.
A folk and local influence
In the 1940s he affirmed his style influenced by various sources of inspiration such as Mughal art, Islamic art, but also miniaturist painting and Art Nouveau. Abdur Rahman Chughtai favoured simple compositions in luminous paintings where his subjects are often heroes or heroines drawn from Islamic legends or folklore, popular tales or Mughal royalty.
Abdur Rahman Chughtai has produced thousands of works in watercolours, sketches and prints. In addition to painting, Abdur Rahman Chughtai has also written short stories and articles on art, and created the logo for the Pakistan Television Corporation.
Renowned works
Abdur Rahman Chughtai's paintings and sketches are quite present on the auction market. For example, there are several portrait sketches, such as Young Boy, Dupatta, Chinese Girl, estimated at between $1,200 and $3,000. There are also paintings, for example a warm-coloured portrait Young Boy (painted around 1945) estimated at 7,000 to 12,000 euros, or a nude Bathing Day estimated at around 13,500 to 23,000 euros in Canada.
Today, Abdur Rahman Chughtai's works are in the British Museum and the Victoria and Albert Museum in England, the National Gallery of Art in New Delhi, the Kennedy Memorial in Boston and the United Nations headquarters in New York.
Recognising Abdur Rahman Chughtai's signature
Like many artists, Abdur Rahman Chughtai did not sign all of his works. However, you will find below an example of the signatures to give you an idea. Variations of these signatures do exist, do not hesitate to contact one of our experts to formally authenticate a signature.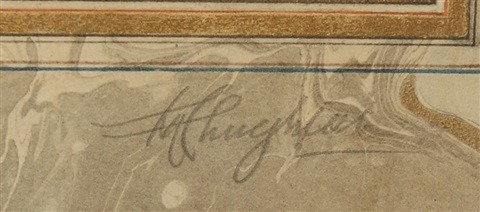 Appraise and sell a painting by Abdur Rahman Chughtai
If you own an Abdur Rahman Chughtai painting or any other sculpture, ask for a free estimate via our online form.
You will then be contacted by a member of our team of experts and auctioneers to give you an independent view of the market price of your painting. In the event of a sale, our specialists will also advise you on the various options available to sell your work at the best price.