Any questions?

contact@mr-expert.com
Do you have a piece by Albert Marquet in your possession and would like to know its value? Our Experts will carry out a free appraisal of your piece, provide you with an estimate of the market price, and then help you to sell at the best possible price.
Status, estimation and price of the artist Albert Marquet
Price of a painting: 12,900 – 400,000 €.
Average estimate for a drawing: 500 – 15,000 €.
Price of a print: 100 – 500 €.
Marquet's status for a sculpture: 1,800 – 2,200 €.
Albert Marquet and Fauvism
Albert Marquet was a French painter born in 1875 in Bordeaux. He died in Paris on 14 June 1947. He was of a rather silent and discreet nature, perhaps in reaction to his club-foot and severe short-sightedness. Marquet was nevertheless a remarkable painter and drawer.
Marquet was a friend of Henri Matisse (1869-1954), whom he met in Gustave Moreau's workshop (1826-1898). His work struggled to be properly defined in a style, so he instead excelled at navigating through the movements of his time.
Albert Marquet is often associated with the Fauvist movement, and he exhibited with them at the Salon d'Automne in 1905. However, his use of colour differs markedly. He nevertheless retains the simplification of forms by seeking harmony on the canvas in order to better synthesise his subject.
The diversity of Marquet's work
The subjects of Marquet's works also vary with his style, from the portraits and nudes of his period with Yvonne, his companion and model, to the landscapes that he painted obsessively over the course of his many travels and with Marcelle, his second wife who he met in Algeria in 1920. He extensively painted the sea, as well as the river Seine, in variations of grey, green, blue – tones more temperate than the Fauves, but more in line with Marquet's temperament. The views are often from high up, as Marquet painted from a window most of the time. The matt texture of his paintings, his obsession with colour nuances and his keen sense for detail all give Marquet a recognisable artistic signature.
Albert Marquet's works can be found in some of the greatest museums in France and across the world.
Recognising Albert Marquet's signature
Like many artists, Marquet did not sign all of his works. However, you will find below an example of the signatures to give you an idea. Variations of these signatures do exist, do not hesitate to contact one of our experts to formally authenticate a signature.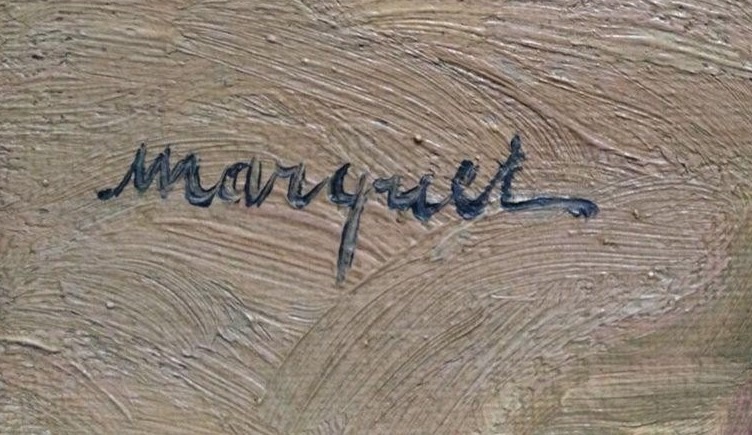 Appraising and selling a piece by Albert Marquet
If you own a piece by Albert Marquet or any other object, ask for a free estimate via our online form.
You will then be contacted by a member of our team of experts and auctioneers to give you an independent view of the market price of your piece. In the context of a possible sale, our specialists will also advise you on the different options available to sell your work at the best price.