Alexander Archipenko
1887-1964
Any questions?

contact@mr-expert.com
Do you own a work by Alexander Archipenko and would you like to know more about its value? Our Experts will carry out a free appraisal of your painting, to provide you with an estimate of the market price, then assist you to sell at the best price.
Status, price and estimation by the artist Alexander Archipenko
Price of a sculpture: 400 – 1,400,000 €.
Price of a painting: 6,500 – 1,900,000 €.
Estimation of a drawing: 850 – 42,000 €.
Estimation of a print: 70 – 4,300 €.
If you would like to have a work by Alexander Archipenko appraised, our experts will take care of everything.
Off the beaten track
Alexander Archipenko is an American artist of Ukrainian origin born in 1887. He studied at the art school of his hometown, Kiev, from 1902 to 1905. There he first learned painting and then sculpture. Following that, he finished his studies with a trip to Moscow before settling in the French capital in 1908. Upon his arrival and during his first classes at Paris' School of Fine Arts, he very quickly realised that academic education was not for him. He then decided to study the antique works exhibited in the Louvre on his own.
Cubism and polychromy
After this period of apprenticeship, in 1910 he began to take a very serious part in the Cubist movement, which was very much in vogue at the beginning of the 20th century. The sculptures Archipenko created at the time addressed issues that were resolutely new for the time: the dialectic between empty and full (Women Walking, 1912), full volumes, hollow volumes. For example, in a work such as Boxing (1913), the artist tried to re-transcribe all the strength and power emanating from this sport by using abstract forms, thus freeing himself from form as a realistic object. Thanks to this liberation, he broke with traditional sculpture and manages to assert himself as a master of the avant-garde. Indeed, the artist distinguished himself in a genre that had been largely set aside since the 17th century in the West, polychromy.
Alexander Archipenko and the Golden Section
He made his first assemblage of materials that he painted in 1912, Medrano, composed of wood, glass and metal. His "sculpto-paintings", reliefs made of painted plaster, also appear during this period. Then a member of the group of the Section d'Or, a circle of cubist artists also known as the Groupe de Puteaux, he exhibited alongside them. However, criticism was raging against their revolutionary work, which was still too far ahead of its time. The only figure to recognise their work is Guillaume Apollinaire, who writes about them in the columns of his columns for L'intransigeant or in the prefaces of catalogues.
He moved to Berlin in 1921 to teach sculpture until 1923, when he settled and died in the United States. In the meantime, he founded several art schools, including Woodstock and New York. He also worked at the New Bauhaus School of Industrial Arts in Chicago.
In 1960 a book was published which he wrote in part, Archipenko: Fifty Creative Years 1908-1958, containing the writings of fifty art historians and containing important texts about creation in art.
Recognising Alexander Archipenko's signature
Like many artists, Alexander Archipenko did not sign all of his works. However, you will find below an example of a signature in order to give you a first idea. Variations of this signature exist: do not hesitate to contact one of our experts to authenticate a signature in a formal way.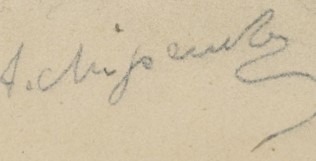 Appraising and selling a painting by Alexander Archipenko
If you own a painting or any other sculpture by Alexander Archipenko, ask for a free estimate via our online form.
You will then be contacted by a member of our team of experts and auctioneers to give you an independent view of the market price of your painting. In the event of a sale, our specialists will also advise you on the various options available to sell your work at the best price.