Alexander Calder
1898-1976
Any questions?

contact@mr-expert.com
You own an artwork by Alexander Calder and would like to know what it's worth? Our experts are here to carry out a free expertise, provide an appraisal and help you sell it at the best price.
Alexander Calder's quote, estimate and price
Average estimate for a sculpture: 22,000 – 800,000 €.
Price of a Calder tapestry: 4000 – 50000 €.
Quote for a painting: 14,000 – 85,000 €.
Selling price of a print: 300 – 1,000 €.
A creative soul
Alexander Calder is an American sculptor and painter, born 22 July 1898 in Lawnton, Pennsylvania, died 11 November 1976 in New York. Coming from a family of artists, he is famous for his mobiles and stabile sculptures. He was exposed to artistic creation from an early age, and his parents set up a studio for him in their home.
Calder studied mechanical engineering at the Stevens Institute of Technology in New Jersey and then at the Art Student league of New York.
He worked as a sports event illustrator for the "National Gazette Police" paper. In 1926, Calder moved to Paris where he took drawing classes at the Académie de la Grande Chaumière. He went on to work for a designer of mass-produced toys. Fascinated by shows for the general public, he created the "Cirque Calder", a set of two hundred characters made from wire and cloth. He used this set for a two-hour performance and exported it to several European countries.
The birth of mobiles and stabile sculptures
Calder rubbed shoulders with the Parisian avant-garde artists such as Jean Cocteau, Man Ray, Fernand Léger, Le Corbusier and Theo Van Doesburg. Ultimately, he was particularly influenced by Piet Mondrian.
In the 1930s, the first Mobiles emerged. These forms of abstract sculpture were named as such by Marcel Duchamp. The expression Stabile was found by Jean Arp. In 1938, Calder presented his creations for fifteen minutes. Calder's mobiles inspired him to create numerous gouaches. Movement is at the heart of each of his works.
During the Second World War, Calder used other materials such as wood, plaster and recycled materials due to a shortage of metal. In 1952, he won the Grand Prize at the Venice Biennale. He set up his workshop in the south of Tours in France. He also gave small drawings and mobiles to the people he worked with.
In 1958, he created a monumental mobile for UNESCO for its Paris headquarters.
In the 1960s, he had several workshops running to manufacture his mobiles and stabile sculptures, including the Biemont companies located in Tours. Les Trois disques was produced for the 1967 World's Fair in Montreal. The birth of his works was through the making of models. It is in the 60s, that he discovered a passion for tapestry, he made some drafts with abstract motives for the Aubusson tapestry.
In 1971, Calder collaborated with Prévert to produce etchings for the book "Fêtes". He collaborated with Hervé Poulain to personalise a BMW running in the 24 Hours of Le Mans race.
Calder died of a heart attack during a retrospective of his work at the Whitney Museum of American art in New York at the age of 78. A large part of his works are kept in France.
Recognising Alexander Calder's signature
Like many artists, Alexander Calder did not sign all of his works. However, you will find below an example of the signatures to give you an idea. Variations of these signatures do exist, do not hesitate to contact one of our experts to formally authenticate a signature.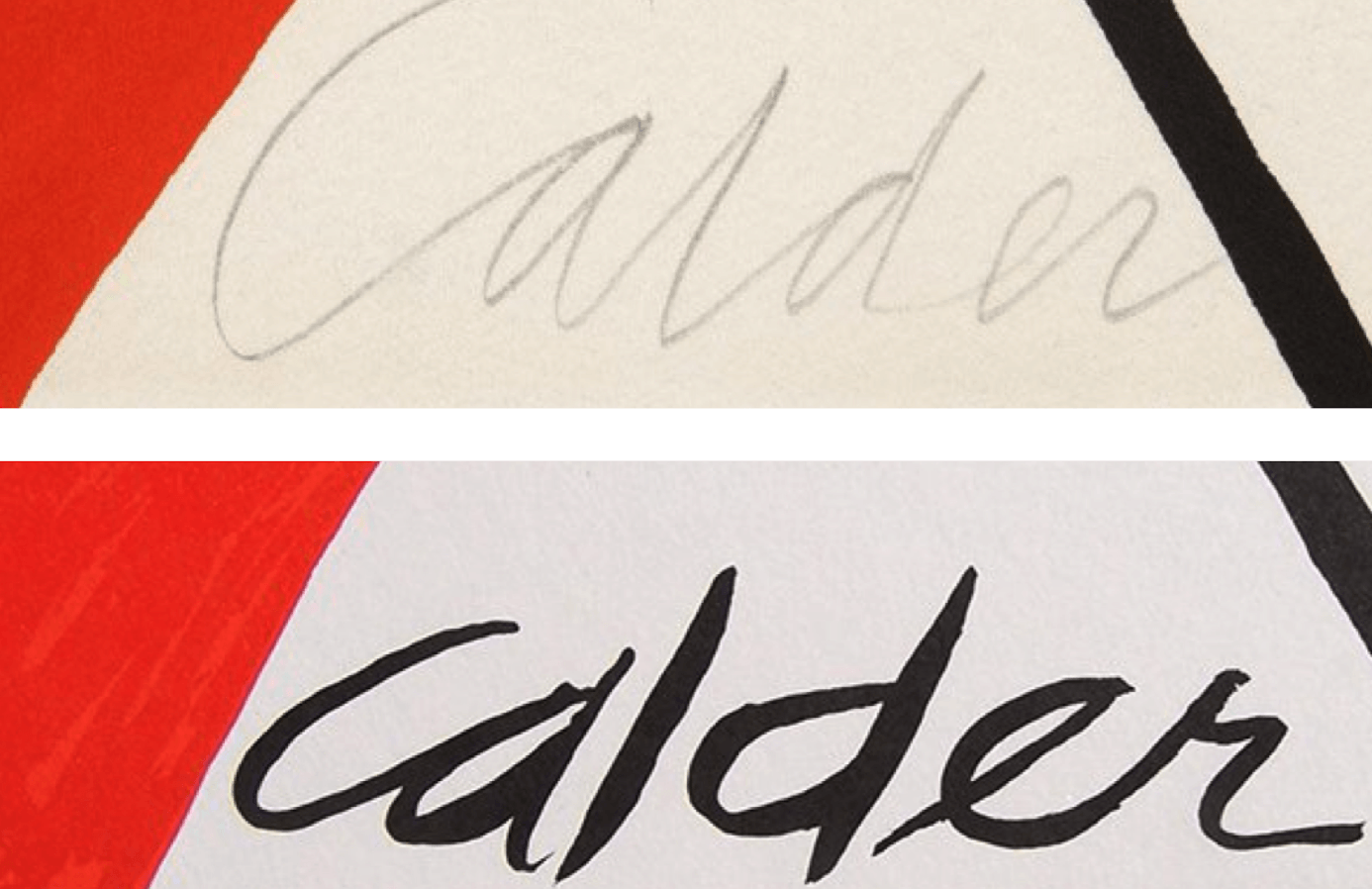 Appraising and selling a Calder's artwork
If you own a calder artwork, fill in our on-line form to get a free appraisal. Someone from our team of experts and auctioneers will provide you with an independent estimate of the market value of your picture. Should you decide to sell it, our experts will advise you on the best options to sell it at the best price.