Any questions?

contact@mr-expert.com
Do you own a work by Alphonse Mucha and would you like to know more about its value? Our Experts will carry out a free appraisal of your painting, to provide you with an estimate of the market price, then assist you to sell at the best price.
Status, price and estimation of the artist Alphonse Mucha
Price of a painting signed Mucha: 1,500 – 300,000€.
Estimate of a drawing or watercolour by the artist for auction: 800 – 40,000€.
Mucha's status for a print or a lithograph: 200 – 7,000€.
If you would like to have a painting by the artist appraised, our experts are at your disposal for a free appraisal.
A precocious artist
Alphonse Mucha was born in Moravia in the town of Ivancice in 1860. His first drawing dates back to childhood, he was no over 8 years old when he composed a Crucifixion heralding his talent.
In his teenage years Mucha met Jan Umlauf, a theoretical academic painter who had a significant influence on his artistic orientation.
After having been refused by the Academy of Fine Arts in Prague following his application, his training took place in Munich at the Academy of Fine Arts and then at the Julian Academy, a private Parisian institution of painting and sculpture. The latter was completed at the Colarossi Academy.
At the beginning of his career, the world of theatre was a gateway, indeed Mucha was chosen to create sets in the future Czech Republic as well as in Vienna.
The Austrian painter and decorator Hans Makart trained Mucha in part. His close circle of friends included Paul Gauguin and FrantisekKupka, both of whom served as models for his work.
A key figure in Art Nouveau
The first income he received came from portraits.
When he moved to Paris, Mucha worked for catalogues and magazines for which he designed illustrations. The Parisian publishing house Armand Colin recognised his talent as an illustrator and hired him at the end of the 19th century.
A major event was her meeting with the actress Sarah Bernhardt, who commissioned her to play the advertising poster for the play Gismonda, a role in which she performed. The result is such a success that the latter offers the artist to work under contract for several years.
Mucha's feminine figures, elongated and represented in vast floral compositions stretched out in height, evocative of a soft sensuality, contribute in large part to its success. The artist undertook a trip to the United States and tried to transpose his subtle poster work into painting, without success.
The intercession of a wealthy American industrialist is an opportunity for the artist to concentrate on a vast project The Slavic Epic, a pictorial narrative of the peregrinations of the Slavic peoples from the 3rd to the 20th century. Thanks to his impulse, Mucha was able to come to Prague, where he produced sets for the National Theatre and other emblematic monuments of the city.
Tributes and distinctions
Distinguished Officer of the Legion of Honour and the Order of Saint Joseph.
His works can be seen in the Narodni Museum in Prague, the national museum, and he has also made stained glass windows in St. Vitus Cathedral in the Czech capital.
He died of pneumonia in 1939.
The Musée du Luxembourg devoted a major exhibition to it in 2018.
Recognising Alphonse Mucha's signature
Like many artists, Alphonse Mucha did not sign all of his works. However, you will find below an example of a signature in order to give you a first idea. Variations of this signature exist: do not hesitate to contact one of our experts to authenticate a signature in a formal way.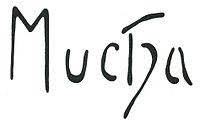 Appraising and selling a painting by Alphonse Mucha
If you own a painting or any other sculpture by Alphonse Mucha, ask for a free estimate via our online form.
You will then be contacted by a member of our team of experts and auctioneers to give you an independent view of the market price of your painting. In the event of a sale, our specialists will also advise you on the various options available to sell your work at the best price.