Any questions?

contact@mr-expert.com
Do you have a piece by André Derain in your possession and would like to know its value? Our Experts will carry out a free appraisal of your piece, provide you with an estimate of the market price, and then help you to sell at the best possible price.
Quote, price and estimation of the artist André Derain
Price of a painting at auction: 3,000 – 4 500 000 €
Estimation of a drawing or watercolour by Derain: 400 – 3,000 €.
André Derain's quotation for the sale of sculpture: 600 – 20,000 €.
Average estimate for a print: 100 – 4,000 €.
If you would like to have a painting signed by Derain appraised, our painting experts are at your disposal for a free appraisal.
Derain, an eclectic artist and founder of fauvism
André Derain was born in 1880 in Chatou into a bourgeois family. A fervent creator, his artistic production is not limited to painting. Indeed, he designed sets and costumes for ballets and theatres, was an engraver, illustrator and writer, while continuing to practice photography at the same time. With his friend and painter Maurice de Vlaminck he rented a studio in Chatou to paint, at the Académie Julian he met Guillaume Apollinaire and at the Académie Camillo in Paris he became friends with Matisse.
These encounters were decisive for his pictorial production. Indeed, Matisse very quickly pushed him to participate in the Salon des indépendants, they both painted landscapes and portraits while nourishing their reflections on the theories of painting. In 1905, he exhibited at the Salon d'Automne with Vlaminck, Marquet, Manguin, Matisse, in the room with the controversial works nicknamed "la cage aux fauves". From this appellation was born the expressionist painting current: Fauvism. Fauvism is characterised by an originality of form which is simplified to give way to an innovative search for chromatic ranges: with the help of large colour planes (experimented with by Matisse) known as "pures", artists are looking for a new artistic expression no longer limited to the reproduction of reality. Mobilised in 1914, the war put an end to artistic exchanges between European countries and renewed the pictorial creation of Derain who died in 1954.
From experimentation to a return to order
At the beginning of his artistic production, Derain came close to the emerging expressionism, but the landscapes he painted prefigured the characteristics of fauvism. From 1905 onwards, it was with Matisse that he experimented with veritable explosions of flamboyant colours that translated their emotions into powerful compositions. Signac's influence and his interest in divisionism can be seen in the separation of colours and the optical mixture he sought.
While Matisse translates an ideal universe, Derain places tortured figures in these works centred on an orchestration of complementary colours. Derain uses a simple, synthetic graphic design, allowing a summary identification of shapes through the juxtaposition of colours that play with light. In a letter to Vlaminck during his stay in Collioure with Matisse he writes "I let myself go to colour for the colour" and he underlined his evolution on the conception of light.
His plastic experiments are not limited to painting, he produces sculptural works and engravings influenced by the arts from sub-Saharan Africa. The influence of Paul Cézanne will make him explore volume in his works. The contrasts became harsher and the drawings more schematic, especially on the landscapes he painted during his stay in London. Nevertheless, despite his influence, he returned to more traditional painting from the 1920s onwards through harder and more realistic portraits. A real return to order in reaction to cubism which led him to recall the influence of the great masters such as Raphael and the drawings of Ingres.
Recognising A. Derain's signature
Like many artists, André Derain did not sign all of his works. However, you will find below an example of the signatures to give you an idea. Variations of these signatures do exist, do not hesitate to contact one of our experts to formally authenticate a signature.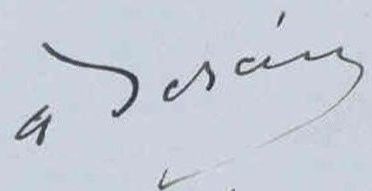 Appraising and selling a piece by André Derain
If you own a piece by André Derain or any other object, ask for a free estimate via our online form.
You will then be contacted by a member of our team of experts and auctioneers to give you an independent view of the market price of your piece. In the context of a possible sale, our specialists will also advise you on the different options available to sell your work at the best price.