Any questions?

contact@mr-expert.com
Do you own a piece by André Lhote and would you like to know more about the work and its value? Our Experts will carry out a free appraisal of your painting, provide you with an estimate of the market price, and help you to sell it at the best price.
Status, price and estimation of the artist André LHOTE
Price of a painting signed Lhote: 3,000 – 200,000€.
Estimate of a drawing or watercolour by the artist for auction: 800 – 15,000€.
Artist's status for a print: 100 – 500€.
If you would like to have a painting by the artist appraised, our experts are at your disposal for a free appraisal.
From sculpture to painting
André Lhote was born in the south-west of France and grew up in Bordeaux with a modest family. He began an apprenticeship as a cabinetmaker after obtaining his primary school certificate at the age of twelve.
He began his main training at the Bordeaux School of Fine Arts where he was introduced to the work of sculpture and decorative arts. Against the advice of his entourage, Lhote began to take up pictorial art more precisely, a singular manner nourished by classical painting, but with a resolutely modern imprint.
Lhote cultivated and maintainsedthis link to the innovative deployments of the art of his time. His encounter with the French writer Jacques Rivière, who became one of his close friends, was one of the decisive encounters for the rest of his career.
Lhote was a frequent visitor of notable art lovers of his time, some of whom contributed to his notoriety and the dissemination of his art.
Lhote or artistic freedom
His works were exhibited annually at the Salon d'Automne, and finally joined the Salon des Artistes girondins in 1908.
His style evolved according to the aesthetic shocks of his time, so he enjoyed producing cubist-inspired paintings to which he tried to instil a personal dynamic, inspired by classical art. His paintings stood out and opened the way to major exhibitions in art galleries in Paris and London.
His landscapes contain as many elements of reality as of abstraction. They are catchy with the lively palette used by the artist. The bodies, nudes oscillating between extreme structuring and decomposition, are exhibited for some of them alongside the works of the emblematic artists of the period: alongside Picasso and his Demoiselles d'Avignon, a masterpiece presented at the 1916 exhibition of modern art in France.
Lhote frequented the major figures who have made modern, French and Mexican art and has the opportunity to travel and present his works in The Hague or Rotterdam. He travelled from Brazil to Egypt, which he showed in painting. Lhote competed with the artists of his time for ingenuity, without ever betraying his singularity.
Lhote, an artist of his time
Lhote directed teachings compiled in two treaties, and was in charge of artistic assignments throughout his career.
He played the role of art critic for the Nouvelle Revue Française. Moreover, throughout his artistic career, he participated in numerous conferences on the evolution of art and pre-war debates in the 1920s and 30s.
Lhote was exhibited in 1953 at the Museum of Modern Art where twelve of his paintings hung, and his major retrospective was organised there in 1958. He died four years later in 1962.
Recognising André Lhote's signature
Like many artists, André Lhote did not sign all of his works. However, you will find below an example of the signatures to give you an idea. Variations of these signatures do exist, do not hesitate to contact one of our experts to formally authenticate a signature.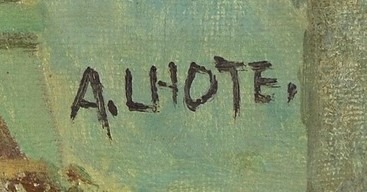 Appraise and sell a painting by André Lhote
If you own a André Lhote painting or any other sculpture, ask for a free estimate via our online form.
You will then be contacted by a member of our team of experts and auctioneers to give you an independent view of the market price of your painting. In the event of a sale, our specialists will also advise you on the various options available to sell your work at the best price.