Any questions?

contact@mr-expert.com
Do you have a piece by Andy Warhol in your possession and would like to know its value? Our Experts will carry out a free appraisal of your piece, provide you with an estimate of the market price, and then help you to sell at the best possible price.
Status, Estimate and Price of the artist Andy Warhol
Price of a Warhol painting: 62,000 – 27,000,000 €.
Average estimate of a drawing: 900 – 1,300,000 €.
Estimation of a Warhol lithograph: 120 – 33,000 €.
Artist's status for a photograph: 1 300 – 57,000 €.
Who is Andrew Warhola?
Born Andrew Warhola, this iconic artist was born in 1928 in Pennsylvania. He studied at Schenley High School in Pittsburgh and then at the Carnegie Institute of Technology. He moved to New York City after graduation and entered the world of fashion and the press. He changed his name in 1949 to Andy Warhol. His first exhibition took place in 1952 in a New York gallery where he exhibited drawings illustrating short stories and published In Search of Lost Shoes in 1955. However, the artist was not content for long to work only for the fashion and advertising industries.
Andy Warhol and Pop Art
Warhol created his first paintings in 1960 based on the comic book drawings of the time. He was not so much imaginative as mechanically intelligent when he created his paintings, and remained literal about the reproduction of images from the mass media. Warhol quickly radicalised his work and in 1962 produced his Campbell's Soup (32 Soup Cans) and, among others, the portrait of Marilyn Monroe (Marilyn 100). The images he produced depicting a Coca-Cola bottle are not intrinsically emotionally charged, but transcribe the emotions generated by the interaction between the object and the consumer. It was also in 1962 that the artist began silkscreen-printing to produce his works, which brought him closer to machinery. Although he depicted bananas and soup cans, Warhol also silk-screened Racial Riots, Electric Chairs and other Disasters (1963), which appeared in the news from 1963 to 1966. Through the reproduction technique used, Warhol strongly questioned the notions of authenticity and originality.
From commercial artist to business artist
Warhol was opposed to art for art's sake. He claimed to always pursue a goal, and here it was apparently financial. In order to be able to maintain his network of partners, he founded the famous Factory in 1963 in premises at 231 East Forty-Seventh Street. Here he made his first film on 16mm film, Sleep, which lasted six hours and simply shows a sleeping man. His film production had a major impact on American cinema in the 1960s. (The Chelsea Girls 1967). The actors of his films as well as the guests of the Factory brought together very different people including movie stars, prostitutes and drug addicts.
In 1965, he met and produced the famous band The Velvet Underground. Following an assassination attempt in 1968, Warhol decided to close the Factory. He returned to painting in 1972 and produced portraits of a large number of celebrities.
He died of an operating accident in 1987, leaving behind an artistic production that changed the face of 20th century art.
Recognising Andy Warhol's signature
Like many artists, Warhol did not sign all of his works. However, you will find below an example of the signatures to give you an idea. Variations of these signatures do exist, do not hesitate to contact one of our experts to formally authenticate a signature.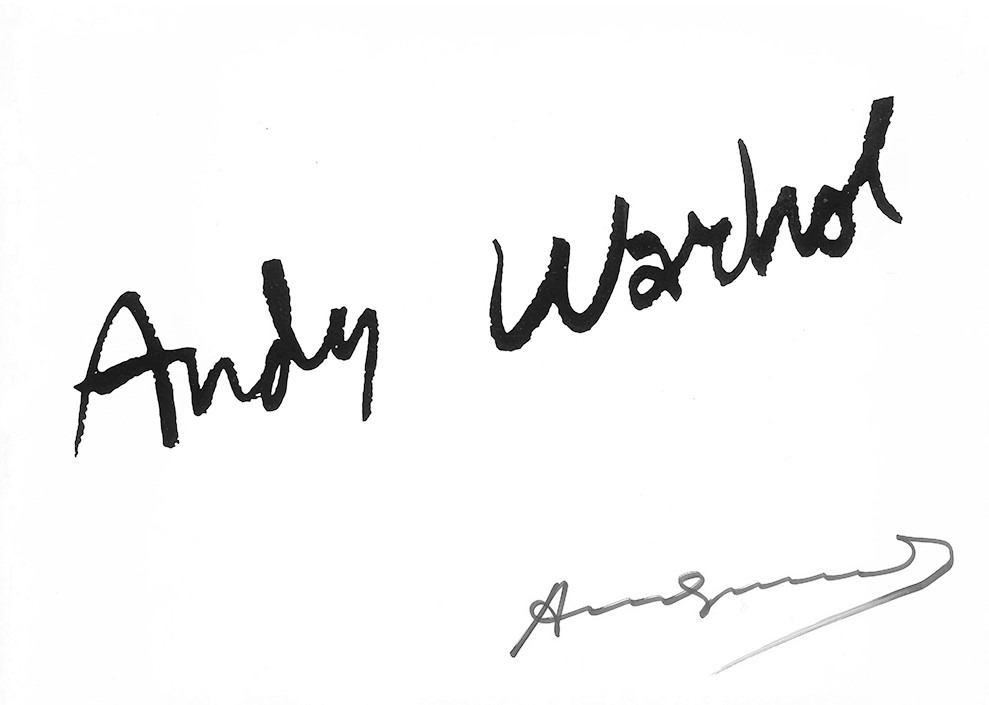 Appraising and selling a piece by Andy Warhol
If you own a piece by Andy Warhol or any other object, ask for a free estimate via our online form.
You will then be contacted by a member of our team of experts and auctioneers to give you an independent view of the market price of your piece. In the context of a possible sale, our specialists will also advise you on the different options available to sell your work at the best price.