Any questions?

contact@mr-expert.com
Do you own a piece by Antonio Saura and would you like to know more about the work and its value? Our Experts will carry out a free appraisal of your painting, provide you with an estimate of the market price, and help you to sell it at the best price.
Status, price and estimation of the artist Antonio Saura
Price of a painting: 3,000 – 260,700 €.
Price of a drawing: €200 – €29,100
Estimate of a print: 20 – 2 400 €.
Price of a sculpture: 1,500 – 3,600 €.
If you would like to have a work of art by Antonio Saura appraised, our experts will take care of everything.
A strong link with his native country: Spain
Antonio Saura was born on 22 September 1930 in Huesca, Spain. He began painting in 1947, during a battle with a long illness. His first years as an artist were spent in Madrid, and from 1953 he moved to Paris. He travelled throughout Europe and America, but never stopped being in touch with Spain. The teenager experienced a period of great solitude during which he tried to kill time by cutting and pasting images from the magazine Signal, which presented the degenerate art of the masters he admired: Pablo Picasso, Max Ernst, Marc Chagall, Paul Klee, Piet Mondrian. He also writes texts and does calligraphic research.
Influences with surrealism
1947 was a pivotal year for Saura, as he began to practice, in his own words, "certain forms of intervention in reality in a much more conscious manner", abandoning the tearing, glued paper and superimposed images 6 of his early work. The first exhibition of his works, born of his first experiments, took place at the Libros bookshop in Zaragoza, organised by Professor Federico Torralba, who introduced him to French magazines: Cahiers d'art and Minotaure. The works exhibited there were almost all destroyed. From 1948-1950, Saura's main work is Constellations. He began his career as a painter in the surrealist movement. His first works, which he produced from his bed during his illness, were fine and delicate. He then developed his production in a dreamy and finely coloured world, his execution is meticulous, with a conscientious brushstroke and intense colour gradations. This first stage gives way to a much freer one, but still in a utopian and surrealist register, as can be seen in his work El Cementerio de los Suicidas (The Suicide Cemetery). The abstract appears more and more intensely and the elements are transformed into vague and ambivalent forms, as in Stone, Moon, Sky.
A representative of Spanish abstract expressionism
Around 1950, with the abandonment of figuration, he moved towards the creation of a gestural and coloured painting in which representation disappeared. In 1957 he was one of the founders of the El Paso group, which had a great influence on Spanish painting in the 1950s and 1960s. Saura's attitude at this time created an obvious tension and poses a vigorous transformation in Spanish art of the moment, and thus comes the definitive triumph of the informal in Spanish painting. However, Saura returned to a torn and dramatic figuration, in which gestures and stains of monsters and blankets appeared, in a range of colours reduced to black and white, through which he wanted to denounce: historical and social satire, as he himself would argue in his writings. From 1980 on, he decided to add the colour red, which he used to represent the figures, as these were the portraits he made with very distorted lines of Christ or female characters. In his final phase, he created large compositions in which he also introduced colour. In 1960 he was awarded the Guggenheim Prize and died on 22 July 1998 in Cuenca, Spain.
Recognising Antonio Saura's signature
Like many artists, Antonio Saura did not sign all of his works. However, you will find below an example of the signatures to give you an idea. Variations of these signatures do exist, do not hesitate to contact one of our experts to formally authenticate a signature.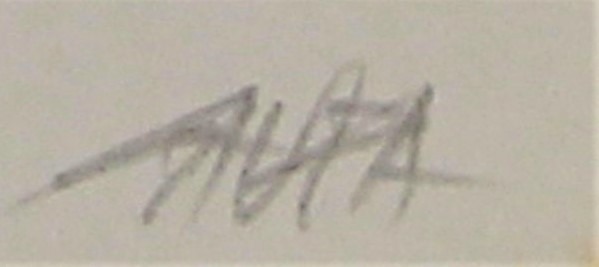 Appraise and sell a painting by Antonio Saura
If you own an Antonio Saura painting or any other sculpture, ask for a free estimate via our online form.
You will then be contacted by a member of our team of experts and auctioneers to give you an independent view of the market price of your painting. In the event of a sale, our specialists will also advise you on the various options available to sell your work at the best price.