Any questions?

contact@mr-expert.com
Do you own a work by Diego Rivera and would you like to know more about its value? Our Experts will carry out a free appraisal of your painting, to provide you with an estimate of the market price, then assist you to sell at the best price.
Status, price and estimation of the artist Diego Rivera
Price of a painting: 3,300 – 7,000,000 €.
Price of a drawing: 1,100 – 351,500 €.
Estimate of a print: 7,600 – 32,100 €.
If you would like to have a work by Diego Rivera appraised, our experts will take care of everything.
Training and influences
At the age of 13 Diego Rivera joined the National School of Plastic Arts "San Carlos" in Mexico City. He was very talented and was quickly noticed by his teachers, including José Maria Velasco, the famous Mexican painter who Diego admired greatly. At the age of 16 he left his school to go to Europe in 1904 and stayed there for almost 15 years.
In Italy, he discovered Giotto's frescoes and was inspired by them to paint his own, which would later make him famous.
In Madrid he studied Spanish specialities in Edouardo Chicharro's studio and then began a series of self-portraits that he would continue throughout his life.
In 1913, he moved to Paris and then joined the "Cercle des Cubistes" in Montparnasse in the early Roaring Twenties. He was greatly influenced by Miro, Picasso and especially Juan Gris. The portraits he made of his friends during this period are described as "radically Cubist".
He married the painter Frida Kalho twice.
Communist frescoes
Diego Rivera was closely interested in the Revolution that took over his country, and he served the cause in his inimitable style frescoes. In the 1920s, he left the avant-garde to concentrate on Mexico, creating a clever mix between his political commitments and his artistic aspirations. The painter tried to revive a typically Mexican artform. He was like a bomb in intellectual circles and art historians even spoke at that time of a "Mexican Renaissance".
Diego Rivera was inspired by the world around him, his daily life, the history of his country and its customs, hence his pronounced taste for the morbid and death. He used the pre-Columbian technique of the monumental fresco made with tempera. The representation of flowers in his works was dear to him. It was also an important theme among the Aztecs.
Diego Rivera on the market
The painter was best known for his masterful painted walls, one of which was commissioned by the Rockefeller Center in 1933 and was destroyed and later reproduced in the Palacio de Bellas Artes – "The Man Controller of the Universe".
One of his many paintings nevertheless broke a record at a sale in 2018, reaching almost 10 million dollars. "Los Rivales" thus became the most expensive Latin American work in auction history.
Recognising Diego Rivera's signature
Like many artists, Diego Rivera did not sign all of his works. However, you will find below an example of a signature in order to give you a first idea. Variations of this signature exist: do not hesitate to contact one of our experts to authenticate a signature in a formal way.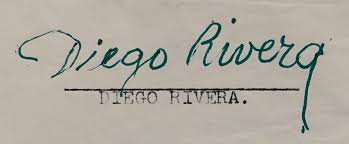 Appraising and selling a painting by Diego Rivera
If you own a painting or any other sculpture by Diego Rivera, ask for a free estimate via our online form.
You will then be contacted by a member of our team of experts and auctioneers to give you an independent view of the market price of your painting. In the event of a sale, our specialists will also advise you on the various options available to sell your work at the best price.