Any questions?

contact@mr-expert.com
Do you own a piece by Franz Kline and would you like to know more about the work and its value? Our Experts will carry out a free appraisal of your painting, provide you with an estimate of the market price, and help you to sell it at the best price.
Status, price and estimation of the artist Franz KLINE
Price of a signed painting: 400 – 4,500,000 €.
Estimate for a drawing or watercolour by the artist at auction: €700 – 130,000
Towards abstract expressionism
Franz Kline is an American painter, a major figure of abstract expressionism like his friend Willem de Kooning. Kline studied fine arts and academic art at the School of the Museum of Fine Arts in Boston and then trained in London at Heatherley's School of Fine Arts. He returned to New York in 1939 and initially painted figurative works, portraits, caricatures and landscapes, but from this time on he had a clear tendency to apply rapid and powerful brushstrokes. It didn't take him long to find his style, as from the end of the 1940s he produced large format paintings in black and white, abandoning naturalism and moving ever further towards abstraction. He also drew closer to the artists of the New York School, Jackson Pollock, Wilhem de Kooning and Robert Motherwell for the best known.
An action painter?
Action painting is as much a technique as a pictorial movement that appeared in the early 1950s in New York; the technique, strongly developed by Jackson Pollock and Willem de Kooning, favours chance in painting, focusing solely on the gestures and movements of the brush and paint on the canvas. Although Kline is often associated with Action Painting, not least because of the visually spontaneous effect of his works, he actually prepared numerous sketches and preparatory drawings for his paintings. This is a departure from the work of his friends in the informal group known as the "New York School".
His best-known works are in black and white, and he did not systematically reintroduce colour until after 1959, dying prematurely two years later at the age of 52, at the height of his fame. His work has been the subject of much curiosity, and his black-and-white work has often been compared to Japanese calligraphy, but he has always denied this comparison. Moreover, the works of this artist appear rather hermetic to art historians, since he refuted any meaning given to his painting, even refusing the idea of a meaning, privileging only the line and the drawing. In this sense, he can be associated with the later movements of minimalism that appeared in the 1960s in New York.
Kline on the market
Franz Kline's reputation is well established and the price of his works on the art market is very high, sometimes reaching peaks as in 2012 at Christie's in New York for an untitled canvas, which sold for more than 40 million dollars. Drawings by this artist regularly sell for tens of thousands of dollars, such as the untitled mixed media drawing (watercolour and gouache), dated 1950 and sold for $30,000 on 17 May 2019 at Christie's New York. The French market is also fond of his works, as evidenced by the composition, Untitled, dated 1960, sold for 28,000 euros at the Carvajal auction house in Antibes in November 2019.
Recognising Franz Kline's signature
Like many artists, Franz Kline did not sign all of his works. However, you will find below an example of the signatures to give you an idea. Variations of these signatures do exist, do not hesitate to contact one of our experts to formally authenticate a signature.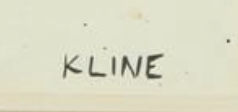 Appraise and sell a painting by Franz Kline
If you own a Franz Kline painting or any other sculpture, ask for a free estimate via our online form.
You will then be contacted by a member of our team of experts and auctioneers to give you an independent view of the market price of your painting. In the event of a sale, our specialists will also advise you on the various options available to sell your work at the best price.