Germaine Richier
1904-1959
Any questions?

contact@mr-expert.com
Do you have a piece by Germaine Richier in your possession and would like to know its value? Our Experts will carry out a free appraisal of your piece, provide you with an estimate of the market price, and then help you to sell at the best possible price.
Quote, estimation and price of the artist Germaine Richier
Price of a sculpture by the artist: 5,800 – 2 600,000 €.
Estimation of a print by the artist: 90 – 1,800 €.
If you would like to have a work by Germaine Richier appraised, our experts will take care of everything.
Training and rewards
Germaine Richier was a French sculptor born in Grans (Bouches-du-Rhône) on 16 September 1902 and died on 31 July 1959 in Montpellier (Hérault). Her relatives nicknamed her the Ouragane, after the name of her sculpture created in 1949.
At the age of 18, Germaine Richier entered the Montpellier School of Fine Arts and learned the basics of sculpture. She sculpts mainly busts and wins first prize in sculpture.
In 1926, her master, Antoine Bourdelle, invited her to his studio in Paris to become his private pupil where she remained until his death in 1929. She learned to work with stone and wood and stayed there until 1933.
In 1936, the sculptor was awarded the Blumhental Prize for her Bust No. 2, representing the son of the sculptor Robert Coutin.
In 1937, Germaine Richier won the Medal of Honour at the Universal Exhibition with her work Mediterranean. She exhibited frequently in Paris and Brussels and took part in the New York International Exhibition. During the day Germaine Richier worked in her studio, and in the evening she joined her friends at La Coupole or the Dôme to drink glasses and exchange on art. There she meets Alberto Giacometti, but also Marino Marini and Robert Couturier.
Technique and innovation
Germaine Richier, thanks to her mentor Antoine Bourdelle, learns to master different sculpture techniques such as triangulation. But the sculptor has imagination and emancipates herself from her apprenticeship. She decides to integrate nature into her works, notably in the Toad where leaves and branches are incorporated into the sculpture.
Since 1953, Germaine Richier has incorporated colour into her works. She introduces coloured glass blocks into her sculptures to play on transparency. L'Échiquier, grand is a group of monumental sculptures and is the culmination of her research on colour. The five statues are currently located in the Jardin des Tuileries in Paris.
Germaine Richier's sculpture Don Quixote was sold for $1.4 million at a Sotheby's sale in June 2014. Don Quichotte measures 212 cm and is a bronze sculpture with a brown patina. The work depicts a Don Quixote holding a spear in his right hand and striking the sun, while his left arm is raised towards the sky. The sculpture, dating from 1950-1951, was presented at the Venice Biennale in 1952.
Recognising G. Richier's signature
Like many artists, Germaine Richier did not sign all of his works. However, you will find below an example of the signatures to give you an idea. Variations of these signatures do exist, do not hesitate to contact one of our experts to formally authenticate a signature.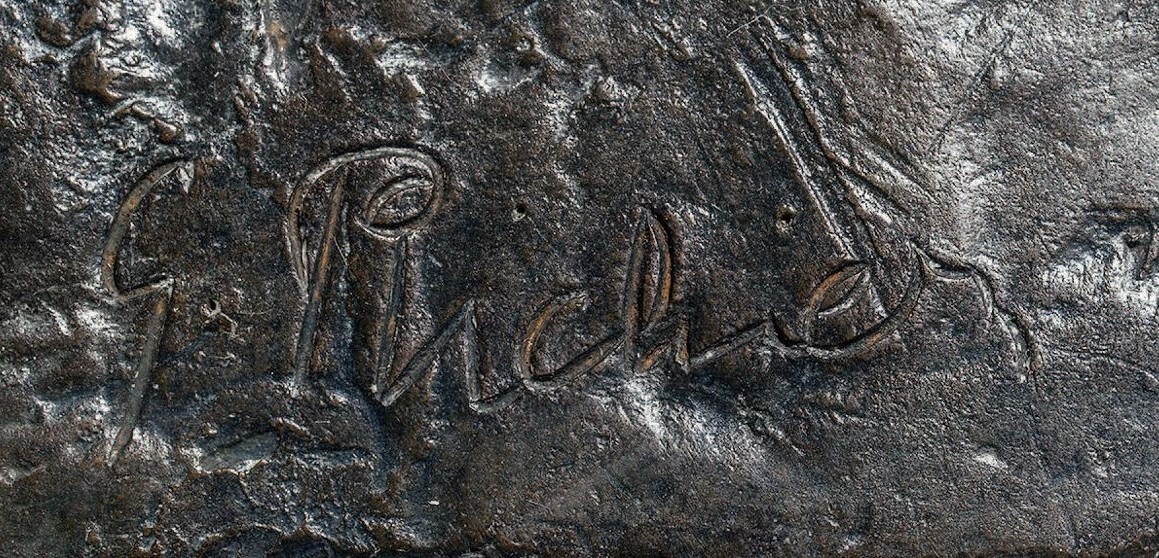 Appraising and selling a piece by Germaine Richier
If you own a piece by Germaine Richier or any other object, ask for a free estimate via our online form.
You will then be contacted by a member of our team of experts and auctioneers to give you an independent view of the market price of your piece. In the context of a possible sale, our specialists will also advise you on the different options available to sell your work at the best price.