Any questions?

contact@mr-expert.com
Do you own a work by Gustave Cariot and would you like to know more about its value? Our Experts will carry out a free appraisal of your painting, to provide you with an estimate of the market price, then assist you to sell at the best price.
Status, price and estimation of the artist Gustave Cariot
Painting: 250 – 58,400€.
If you would like to have a work by Gustave Cariot appraised, our experts will take care of everything.
A self-taught artist
Gustave Camille Gaston Cariot was born in 1872 in Périgny-sur-Yerres near Paris but grew up in the Marais district of Paris, a district associated with artists and craftsmen. His father was a baggage handler and hoped that his son would continue his trade and join the family business, but from an early age, Gustave Cariot showed a natural artistic talent and an interest in pursuing an artistic career. During his apprenticeship with his father, Cariot devoted his free time to studying design and making sketches of his native Paris and the surrounding countryside. He was a self-taught artist who went on to become a famous post-impressionist painter.
Neo-impressionism and the refusal to be associated with it
Although Cariot never accepted the label of neo-impressionist, he was clearly attracted to the theory and scientific techniques of the pointillists and divisionists. Indeed, he is best known for his pointillist works, which reveal his awareness of the divisionist use of brushstrokes and colour theory. Alongside the use of these techniques, Cariot also developed a very personal and unusual technique. His landscape and cityscape paintings are largely characterised by their vivid palette, which gives his works an inner luminosity, and the use of thick impasto, carefully applied to give his compositions a deeper, three-dimensional meaning.
Using this hybrid technique of pointillist and divisionist theories and his own unique style, Cariot's work vividly captures the multiple effects of light falling on trees and rivers and emanating from clouds. Cariot was also influenced by the themes and subjects found in many Impressionist paintings, particularly the pastoral scenes of the French countryside, such as Claude Monet's (1890-1891) series of hay bales and Van Gogh's undulating cypresses, as well as the famous landscapes of his native Paris. Cariot painted several series of works in Paris that depict emblematic places at different times of the day and in different seasons, including the Pont-Neuf from different angles. His aim was to capture and document the many moving faces in a single view, much in the same vein as Monet's studies of Rouen Cathedral. His work is largely dominated by charming country scenes and romantic views of the rooftops of Paris and the Seine in different seasons.
Recognition of his work
His Parisian landscapes and cityscapes have often featured in exhibitions of the prestigious Société des Artistes Indépendants, the Société Nationale des Beaux-Arts, as well as the Salon d'Automne and the Salon d'hiver. In 1909, Cariot exhibited with La Société Moderne, a group founded by the painter Emmanuel de la Villéon and often exhibited at the Galeries Durand-Ruel in Paris.
Recognising Gustave Cariot's signature
Like many artists, Gustave Cariot did not sign all of his works. However, you will find below an example of a signature in order to give you a first idea. Variations of this signature exist: do not hesitate to contact one of our experts to authenticate a signature in a formal way.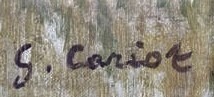 Appraising and selling a painting by Cariot
If you own a painting or any other sculpture by Cariot, ask for a free estimate via our online form.
You will then be contacted by a member of our team of experts and auctioneers to give you an independent view of the market price of your painting. In the event of a sale, our specialists will also advise you on the various options available to sell your work at the best price.