Any questions?

contact@mr-expert.com
Do you have a piece by Hans Arp in your possession and would like to know its value? Our Experts will carry out a free appraisal of your piece, provide you with an estimate of the market price, and then help you to sell at the best possible price.
Quote, estimate and price of the artist Hans Arp
Price of a painting: 1,600 – 1,600,000 €.
Price of a sculpture: 1 500 – 4 300,000 €.
Estimation of a drawing: 800 – 30,000 €.
Estimation of a print: 100 – 6 500 €.
Estimate of a tapestry: 1 100 – 7 200 €.
If you would like to have a Hans Arp's work appraised, our experts will take care of everything.
The beginnings of Hans Arp
Hans Arp also known as Jean Arp is the son of a German father and an mother from Alsace. He was born in Strasbourg on 16 September 1886 and died in Switzerland in Basel on 7 June 1966. He studied decorative arts at the Weimar Academy and then at the Académie Julian in Paris. He moved to Switzerland in 1909 where he met Paul Klee. He was also interested in poetry and showed a strong attraction to German Romanticism.
During this time, he participated in exhibitions such as the Blaue Reiter in 1912 in Munich, a group of expressionist artists formed in Munich. There he met Kandinsky. He was also already trying to emancipate himself from artistic norms.
Hans Arp, an artist turned towards surrealism
When the First World War was declared, he returned to Zurich and exhibited his first abstract works there. In 1915, his paintings showed rectilinear elements that intersect and even form different chromatic planes.
Between 1916 and 1919, he was one of the founding artists of the Dada movement, a group of surrealists led by André Breton in which he experimented and tried his hand at woodcutting. As a part of this group, he took part in several Dadaist initiatives, notably in Cologne and Berlin. The first surrealist exhibition was held in Paris in 1925, Hans Arp participated. He met his future wife, Sophie Taeuber, a painter by profession, and they maintained a close artistic collaboration. The following year he became a French national.
Between 1926 and 1928, he took part with his wife and the architect Theo Van Doesburg in the decoration of the Aubette in Strasbourg, a dancing café which is one of the most significant achievements of abstract art. During this time, he also collaborated with the magazine De Stijl, founded by Van Doesburg in 1917.
Hans Arp, an influential artist
In the early 1930s, he joined the Abstraction-Creation movement founded in 1931 by Auguste Herbin, Jean Hélion and Georges Vantongerloo as a reaction to the powerful group of Surrealists. Within this group, he developed an organic sculpture in the round, perfectly illustrated by Animal de rêve, which he created in 1947. He gives the round form a predominant place.
Hans Arp placed particular importance on chance. In his collages, for example, he let the elements that spontaneously settle on the canvas fall onto the canvas.
During the German invasion, the couple fled France for Zurich. During the journey, his wife died of asphyxiation. Following this brutal death and once back in France, Hans Arp locked himself up to paint, write and make collage and sculpture.
In 1954, he received the Grand Prize for Sculpture at the Venice Biennale and in 1960 the Légion d'Honneur for the body of his work.
Recognising Arp's signature
Like many artists, Hans Arp did not sign all of his works. However, you will find below an example of the signatures to give you an idea. Variations of these signatures do exist, do not hesitate to contact one of our experts to formally authenticate a signature.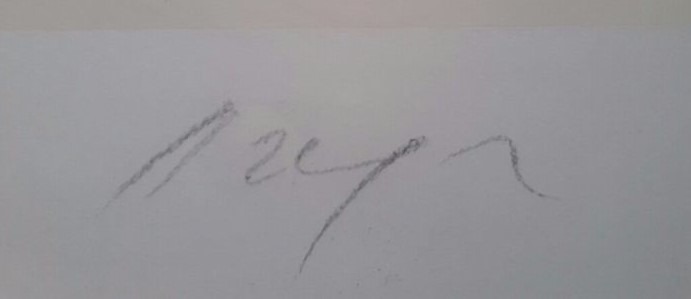 Appraising and selling a piece by Hans Arp
If you own a piece by Hans Arp or any other object, ask for a free estimate via our online form.
You will then be contacted by a member of our team of experts and auctioneers to give you an independent view of the market price of your piece. In the context of a possible sale, our specialists will also advise you on the different options available to sell your work at the best price.