Wassily KANDINSKY
1866-1944
Any questions?

contact@mr-expert.com
Do you own a work by Wassily Kandinsky and would you like to know more about its value? Our Experts will carry out a free appraisal of your painting, to provide you with an estimate of the market price, then assist you to sell at the best price.
Status, price and estimation of the artist Wassily KANDINSKY
Price of a signed painting: 100,000 – 30,000,000€.
Estimate of a drawing or watercolour by the artist for auction: 4,000 – 400,000€.
Selling price of a lithograph: 80 – 10,000€.
Who is Wassily KANDINSKY?
Vassily Kandinsky was a protean artist, poet, painter, engraver and art theorist. He was naturalised as French but is sometimes called Russian-German because he trained in Germany. He is commonly considered one of the pioneers of the transition from figuration to abstraction, along with Piet Mondrian and Kasimir Malévitch. He was very active in his work and at the origin of several important groups such as Der Blaue Reiter in 1911, which he formed with his friends Franz Marc and August Macke and which aimed to develop the expression of feelings through free colours. He returned to Russia during the war, between 1914 and 1921, and then returned to Germany and France.
The path to lyrical abstraction
Very early on in his painting, we may observe the loss of the black circle surrounding the figures. This would favour Kandinsky's transition to abstraction which at the beginning of the 1910s. Kandinsky first tried his hand at the various artistic avant-gardes: he was interested in the geometric approach to representation of Paul Cézanne, then became fascinated by the Fauves and the capacity they conferred on colour to invent expressive shadows. The Centre Pompidou's Autumn in Bavaria, 1908, dates from this period. It represents a subjective vision of autumn lying on paint, made up of coloured rhythms, contrasting flat tints and simplification of forms.
Kandinsky always gave poetry, symbolism and music a very important place in his work. In 1910 he wrote 'Du Spirituel dans l'art et dans la painture en particulier', where he explains the sources that allowed him to create a new artistic vocabulary: philosophy and science have an important place, but music is really the painter's first source of inspiration. It would moreover give its name to Kandinsky's style, described as lyrical abstraction. The dodecaphonic music inspired three great series of paintings in him from 1910 to 1914: Impressions, Improvisations and Compositions in which, gradually, he moved away from all figurative references to create canvases in the manner of a musical work, presenting instead movements of colours.
The great leap towards abstraction
One day, upon returning to his studio, Kandinsky did not recognise one of his paintings, hung upside down; this was a triggering element for him, he came to think that the subject and the object represented were detrimental to the work since they induced a meaning. He believed that abstraction would enable him to free himself from the subject and become a universal spiritual work. This parallel world could then be appropriated by the viewer.
His passage to abstraction was thus done through colour and the independent dissolution of the coloured forms, causing the object to disappear. Étude pour Composition VII, 1913, Centre Pompidou, is considered to be Kandinsky's first abstract work; we can already see his preference for "anti-geometry" and the organic bubbling that is the opposite of Piet Mondrian's work.
The return of the figurative referent
At the end of his life, Kandinksy reintroduced figurative, made-up elements from ancient cultures or cellular science. Bleu de ciel, 1940, Centre Pompidou, is one of the masterpieces of this last period, which influenced many artists such as Joan Miró, Hans Arp and Alexandre Calder. Kandinsky's abstraction therefore tended to represent the invisible through colour and music. He worked extensively throughout his life on the effects of synaesthesia. His work is recognised worldwide, to the point that one of his paintings, Rigid and Curved, 1913, was sold in 2016 for over 23 million euros at Christie's, setting the auction record for the artist.
Recognising Kandinsky's signature
Like many artists, Wassily Kandinsky did not sign all of his works. However, you will find below an example of a signature in order to give you a first idea. Variations of this signature exist: do not hesitate to contact one of our experts to authenticate a signature in a formal way.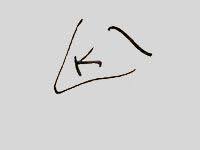 Appraising and selling a painting by Wassily Kandinsky
If you own a painting or any other sculpture by Wassily Kandinsky, ask for a free estimate via our online form.
You will then be contacted by a member of our team of experts and auctioneers to give you an independent view of the market price of your painting. In the event of a sale, our specialists will also advise you on the various options available to sell your work at the best price.