Jackson Pollock
1912-1956
Any questions?

contact@mr-expert.com
Do you own any Jackson Pollock's artwork? Are you curious to know what they are worth? Our Experts can provide a free appraisal to give you an estimate of the market price, then help you to ensure the best possible price should you decide to sell.
Artist Jackson Pollock's Quote, Estimate and Prices
Painting: 88,700 – 40,000,000 €.
Drawing: 70 – 2,000,000 €.
Print: 65 – 32,000 €
Sculpture: 370 – 5,600 €.
If you would like to have a Jackson Pollock work appraised, our experts will take care of everything.
The beginnings of Jackson Pollock
Jackson Pollock was an American painter born in Wyoming on 28 January 1912 who died in New York State on 11 August 1956. In his hometown, he was able to observe Native American rituals and developed a passion for primitive art, a passion that would never leave him and which would be the source of many of his creations.
He left high school without completing his studies in 1927 and entered the School of Manual Arts in California the same year. He was soon expelled. In 1930, he moved to New York and took mural painting and live model classes with the realist painter Thomas Hart Benton. He then trained as a sculptor. He was particularly interested in the subject matter and format.
Jackson Pollock and All-over painting
At the end of the 1930s, the MoMa moved permanently to New York, giving Jackson Pollock the opportunity to admire the works of Picasso with his own eyes. In 1937, he underwent his first alcohol addiction treatment.
The following decade was marked by his innumerable drawings characterised by surrealist figures reminiscent of Picasso's Minotaurs. It was also here that he produced his first key works that truly reflect his creativity.
In 1945, Jackson Pollock and his wife Lee Krasner moved to Long Island in an old, dilapidated farmhouse where the artist set up his studio and created classic canvases characterized by the fact that the paint does not go all the way to the edges. It is spread over the entire surface in an equal manner, which critic Clement Greenberg called "all over".
Jackson Pollock's success
Jackson Pollock got used to painting on the ground, a position he felt more comfortable in, as it was closer to the painting and reminded him of a method similar to that of the West Indians. He sometimes poured the paint from the pot directly onto the canvas and controlled the flow.
Jackson was the first painter of the Abstract Expressionist movement to earn renown through the press. He represented the United States at the Venice Biennale in 1950.
In the early 1950s, he reintroduced figures that had become accustomed to being drowned in his motifs. He used mediums other than brushes or pencils – for example, syringes. He experimented with the effects of paint, sometimes fluid, sometimes thick, and appreciated the fusion of art materials.
In one particular magazine, he stated paintings have an independent life and that he must "let it emerge". When he "loses contact with it, the result is chaotic". He died in a car accident in 1956.
Recognising Jackson Pollock's signature
Like many artists, Jackson Pollock did not sign all of his works. However, you will find below an example of the signatures to give you an idea. Variations of these signatures do exist, do not hesitate to contact one of our experts to formally authenticate a signature.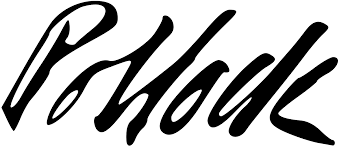 Appraising and selling a Pollock's artwork
If you own a Jackson Pollock's artwork, use our online form for a free appraisal.
You will then be contacted by a member of our team of experts and auctioneers to give you an independent opinion of the market price. Should you wish to sell your painting or any other artwork, our specialists will also advise you on the various options available for selling at the best price.