Jesús Rafael SOTO
1923-2005
Any questions?

contact@mr-expert.com
Do you own a piece by Jesús Rafael Soto and would you like to know more about the work and its value? Our Experts will carry out a free appraisal of your painting, provide you with an estimate of the market price, and help you to sell it at the best price.
Status, price and estimation of the artist Jesús Rafael SOTO
Price of a sculpture signed Soto at auction: 2,000 – 800,000 €
Estimation of a drawing or a watercolour: 700 – 4,000€.
Average status for a painting by the artist: 12,000 – 500,000€.
Average estimate for a print: 500 – 7,000€.
If you would like to have a sculpture by Jesús Rafael SOTO appraised, our experts are at your disposal for a free appraisal.
Who is Jesús Rafael SOTO?
Jesús Rafael Soto, born on June 5, 1923 in Ciudad Bolivar and died on January 14, 2005, is an emblematic artist of the Op Art/Kinetic Art movements, known for his taste for optical games involving the spectator and questioning the relationship of the spectator to the work of art.
From cinema to kinetic art: Sotorian continuity
Originally a simple painter of letters and cinema posters, the young Jesús, through the quality of his illustrative work, managed to get a scholarship to attend the Fine Arts School in Caracas. At the end of this education there, he decided to teach in his turn in order to transmit his passion and make Art accessible to all: the student then became the master. Thus he left for Maracaibo to become director of the School of Fine Arts of the city. In 1950, however, he chose to leave Latin America and move to the French capital. This change was an opportunity for him to take part in numerous artistic projects and to attend lectures given by Pillet and Dewasne. He will remain there until his death.
In 1955, Soto participated in one of the exhibitions called Le Mouvement at the Galerie Denise René, an exhibition internationally renowned for establishing the fundamental principles of kinetic art. This is where his worldwide career truly began, culminating in 1995 with the Grand Prix National de la Sculpture in France, which was awarded to Soto.
Soto's avant-gardism
Soto's choice to live in Paris should not be attributed to chance or to a primary artistic inspiration: behind this new location lies the desire to be as close as possible to those who share the same philosophical approach as him; the desire to plunge into the as yet undiscovered cracks of the artistic universe.
He met Antoine Pevsner, Hans Arp and Fernand Léger, artists with whom he collaborated in 1952 to create the Proyecto de Integracion de las Artes at the Central University of Venezuela, thus rediscovering his Latin American roots. Fifteen years later, it was the painter-sculptor Messen-Jaschin's turn to meet him, a friendly connection that allowed Soto to try his hand at murals, particularly the murals for the UNESCO in Paris, created in 1970.
Soto and the game on industrial and synthetic materials
Sotorian work aspires, by definition, to analyse modernity in all its forms, including in the diversity of media used to produce the works that will serve as the artist's medium. This is why Soto frequently played with the juxtaposition of industrial materials, among which steel and Plexiglas are frequently found, thus oscillating between light and supple forms and imposing masses.
His work Cadmio con negro, estimated at 800,000€, demonstrates this dimension of playing on appearances and perceptions. Two large squares, black and yellow, are thus represented, with, all around, the presence of other smaller squares whose colour and perspective change thanks to the play on the degree of intensity of the black background of the canvas.
Recognising Jesús Rafael Soto's signature
Like many artists, Jesús Rafael Soto did not sign all of his works. However, you will find below an example of the signatures to give you an idea. Variations of these signatures do exist, do not hesitate to contact one of our experts to formally authenticate a signature.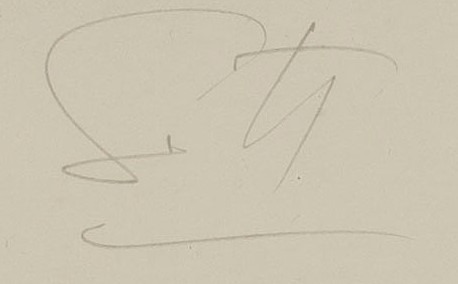 Appraise and sell a painting by Jesús Rafael Soto
If you own a Jesús Rafael Soto painting or any other sculpture, ask for a free estimate via our online form.
You will then be contacted by a member of our team of experts and auctioneers to give you an independent view of the market price of your painting. In the event of a sale, our specialists will also advise you on the various options available to sell your work at the best price.