Any questions?

contact@mr-expert.com
Do you own any Joan Miró's artwork? Are you curious to know what they are worth? Our Experts can provide a free appraisal to give you an estimate of the market price, then help you to ensure the best possible price should you decide to sell.
Value, estimate and price of the artist Joan Miró
Price of a painting: 32,000 – 20,000,000 €.
Price of a drawing: 6 800 – 300,000 €.
Estimation of a print: 10 – 5,000 €.
Estimation of a sculpture: 210 – 10,000,000 €.
If you would like to have a work by Joan Miró appraised, our experts will take care of everything.
Education and surrealism
Joan Miró is a Spanish surrealist sculptor and painter. He was born on 20 April 1893 in Barcelona and died on 25 December 1983 in Palma de Mallorca.
Joan Miró began drawing at the age of 8, but followed his father's orders and pursued his studies in commerce in 1907. However, he soon abandoned his studies and joined the La Llotja School of Fine Arts. In 1911, he entered the Barcelona School of Art and stayed there for three years, but Joan Miró also studied at the Cercle Artístic de Sant Lluc at the same time.
Joan Miró hosted his first solo exhibition from February to March 1918 in Barcelona.
He visited Paris for the first time in 1919 and eventually settled in the French capital throughout the early 1920s. In 1924 he met surrealist poets, including Louis Aragon and Paul Eluard. In the midst of a personal crisis, Joan Miró wanted to leave established movements such as cubism, realism and academism. Together with his friends, he signed the Manifesto of Surrealism.
In June 1925, Joan Miró exhibited 16 paintings and 15 drawings at the Galerie Pierre in Paris, and both sales and critics were very positive about his work. Paul Klee also exhibits and his paintings leave a strong impression on the surrealist painter.
Catalan Art and Renewal
Between 1928 and 1930, Joan Miró gradually moved away from the surrealist movement, not joining the political ideas and demonstrations of the group. He tried his hand at collage, which led him to the sculptures he began working on in 1930.
He exhibited his sculptures at the Galerie Pierre and at the Salon des Surindépendants. But most importantly, he held his first exhibition of paintings in New York in 1932.
He returned to live with his family in Barcelona, but travelled extensively to Paris and Mallorca. In order to promote Catalan avant-garde art, he joined the Association of Friends of Art Nouveau with Joaquim Gomus and Joan Prats. The Association exhibits in several major cities, including Paris, Berlin, New York and London. At the beginning of the 1960s, Joan Miró helped the couple Aimé and Marguerite Maeght set up their foundation in Saint-Paul-de-Vence. The Maeght Foundation contains more than 275 works by Joan Miró, including paintings, sculptures, ceramics and even a stained-glass window integrated into the architecture. In 1980, he received the Gold Medal of Merit for Fine Arts from the Ministry of Culture and in 1981 he inaugurated Miss Chicago, a 12-metre sculpture in the city of the same name.
Joan Miró died at the age of 90 and is buried in Barcelona.
The work Painting Poem, painted in 1925, sold for €20.2 million in February 2012 at Christie's.
Recognising Joan Miró's signature
Like many artists, Miró did not sign all of his works. However, you will find below an example of the signatures to give you an idea. Variations of these signatures do exist, do not hesitate to contact one of our experts to formally authenticate a signature.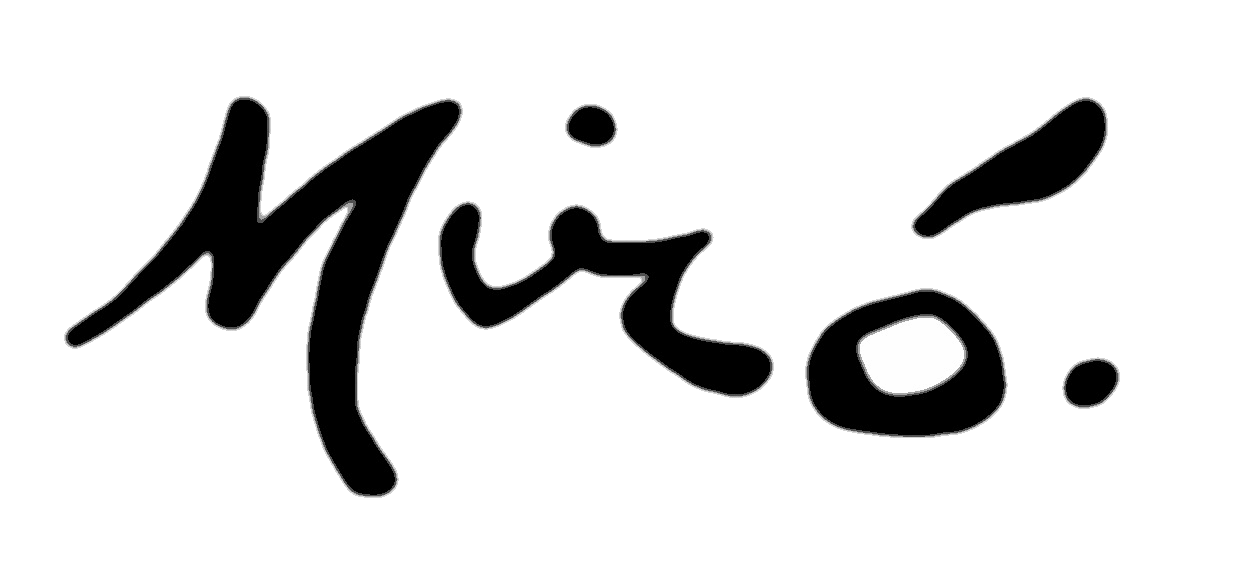 Appraising and selling a Miró's artwork
If you own a Joan Miró's artwork, use our online form for a free appraisal.
You will then be contacted by a member of our team of experts and auctioneers to give you an independent opinion of the market price. Should you wish to sell your painting or any other artwork, our specialists will also advise you on the various options available for selling at the best price.