Any questions?

contact@mr-expert.com
Do you own a piece by Jules Chéret and would you like to know more about the work and its value? Our Experts will carry out a free appraisal of your painting, provide you with an estimate of the market price, and help you to sell it at the best price.
Status, price and estimation of the artist Jules CHÉRET
Price of a painting at auction: 500 – 50,000 €
Estimation of a drawing or watercolour by the artist: 100 – 6,000€.
Average estimate for a print by Victor Charreton: 100 – 2,000€.
If you would like to have a painting signed Chéret appraised, our painting experts are at your disposal for a free appraisal.
Bringing together the industrial and artistic worlds
Pioneer of the art of the poster as a painter, lithographer and decorator Jules Chéret was a Parisian artist born in 1836 into a family of craftsmen. This period was marked by the second industrial revolution, when the production of illustrations developed massively following the printing boom. His father was a typographer and allowed him to train at a very young age in a lithography workshop, where he learned to draw letters, and then in another Bouasse-Lebel printing house specialising in religious imagery. Training in drawing, he studied lithography and painting. Lithography is his medium of choice, and he will continue to use it to illustrate smaller formats than his posters. For several years, Jules Chéret lived in London where he learnt to use large formats and fast prints, which contributed to his technical training. It was also there that he met his patron Eugène Rimmel. On his return to Paris, he founded his printing works in 1866, which is a true practical application of all the knowledge he had accumulated: there he mastered the industrial dynamics and artistic control of the production of colour lithographs.
In 1889 it was the consecration, and he received the gold medal of the World's Fair and the following year the Legion of Honour as "creator of an art industry since 1866 through the application of art to commercial and industrial printing ". Over the course of his life, he produced and designed a thousand posters for theatres and products. His extremely vast and modern production reimagines the urban landscape. The writer G. Rodenbach wrote in 1899 " Owning a work by M. Chéret is to have, at home, Paris ".
Jules Chéret's creativity is also evident in his paintings, drawings and wall decorations. This can be seen in particular in the commission for the stage curtain for the Musée Grévin and the decoration of Baron Vitta's villa in Evian.
In 1920, suffering from blindness, he was forced to stop painting and settled permanently in Nice where he died in 1932.
The creator of the modern poster
Through his posters, Jules Cheret expressed a popular art form and the poster became an artistic revelation. His first poster, Orpheus in the Underworld by Offenback (1858), was part of the Victorian era, when the decoration was highly ornamented and complex, dominated by a feeling of nostalgia. Its design broke with this complex style, its compositional scheme became more rhythmic and rests on central figures, simple backgrounds with a vivid design and clear colours. He himself spoke of vivid colours that should be as striking as they are harmonious. Two motifs are repeated in his compositions: a strong emphasis on movement, which makes the poster dynamic, and feminine inspiration (attributed to Charlotte Wiehe in particular). He creates a real typology of characters, the graceful, laughing woman, euphoric characters on themes taken from the Commedia Dell'Arte, the festival. He combines a profound influence of Rococo painters such as Watteau and Fragonard with modern elements. At the centre of the effervescence of poster art, he was succeeded by artists such as Henri de Toulouse Lautrec, Alphonse Mucha and Cappiello.
Recognising Jules Chéret's signature
Like many artists, Jules Chéret did not sign all of his works. However, you will find below an example of the signatures to give you an idea. Variations of these signatures do exist, do not hesitate to contact one of our experts to formally authenticate a signature.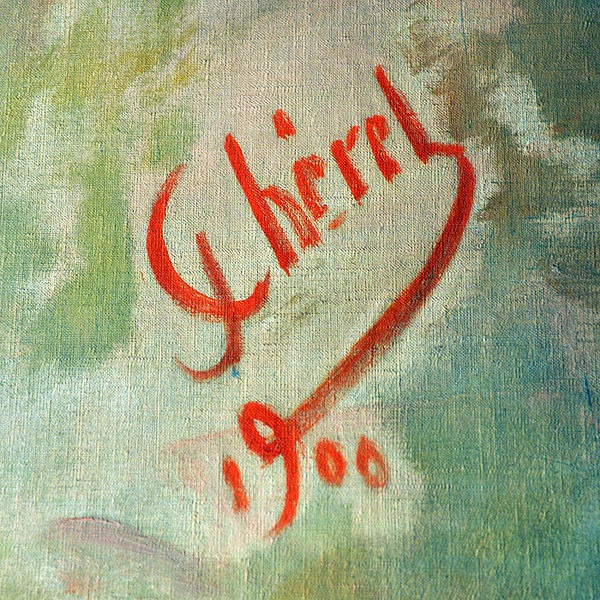 Appraise and sell a painting by Jules Chéret
If you own a Jules Chéret painting or any other sculpture, ask for a free estimate via our online form.
You will then be contacted by a member of our team of experts and auctioneers to give you an independent view of the market price of your painting. In the event of a sale, our specialists will also advise you on the various options available to sell your work at the best price.