Louis Leopold Boilly
1761-1845
Any questions?

contact@mr-expert.com
Do you have a piece by Louis Leopold Boilly in your possession and would like to know its value? Our Experts will carry out a free appraisal of your piece, provide you with an estimate of the market price, and then help you to sell at the best possible price.
Status, price and estimation of the artist Louis Leopold Boilly
Price of a painting: 1,600 – 106 600 €.
Price of a drawing: 50 – 245,500 €.
Estimation of a print: 10 – 726 €
If you would like to have a work by Louis Leopold Boilly appraised, our experts will take care of everything.
The painter of troubled times
Louis Leopold Boilly is the son of a wood sculptor, of modest origin his father pushed him to embark on an artistic path. Until the age of 17, he learns painting with Charles Alexandre Joseph Caullet. His work is part of the revolutionary, troubled period when artists had difficulty in (over) living. His life and his way of painting evolve according to the regimes that follow one another. Thus, during the revolutionary era until the fall of the directoire, he made contemporary prints, contemplating daily life and a fine portrait painter, thus providing a historical testimony of this period. After the revolution, although he was admitted to the Salon du Louvre, he had to be more cautious and unveiled more patriotic works such as the Triumph of Marat. Under the consulate he continued the genre scenes. His work was very prolific, there are several thousand prints and paintings that offer a precise view of clothing and society from Louis XVI to the July Monarchy.
The influence of Dutch painters
His patron, Antoine Calvet de Lapalum, commissioned him to paint eight canvases in preparation for his artistic career and compositions. During the Salon of 1791, he presented heterogeneous works such as trompe-l'oeil portraits, genre scenes with gallant or naughty themes. Following critics emphasizing the obscene nature of his genre scenes, he showed his studio and tackled patriotic themes more in keeping with the tastes of this period, which emphasized historical formats rather than genre scenes. But Louis Leopold Boilly prefers genre scenes from the 17th century Dutch masters such as Ter Borche, Peter de Hooch or Mieris. In the same way, he approaches everyday life with a preference for small formats, more intimate with familiar scenes. A portrait painter from his earliest days, trained by Dominique Doncre in Arras, his works give more importance to characters and their expressions in order to truly capture the atmosphere of a place and a time.
Recognising Louis Leopold Boilly's signature
Like many artists, Boilly did not sign all of his works. However, you will find below an example of the signatures to give you an idea. Variations of these signatures do exist, do not hesitate to contact one of our experts to formally authenticate a signature.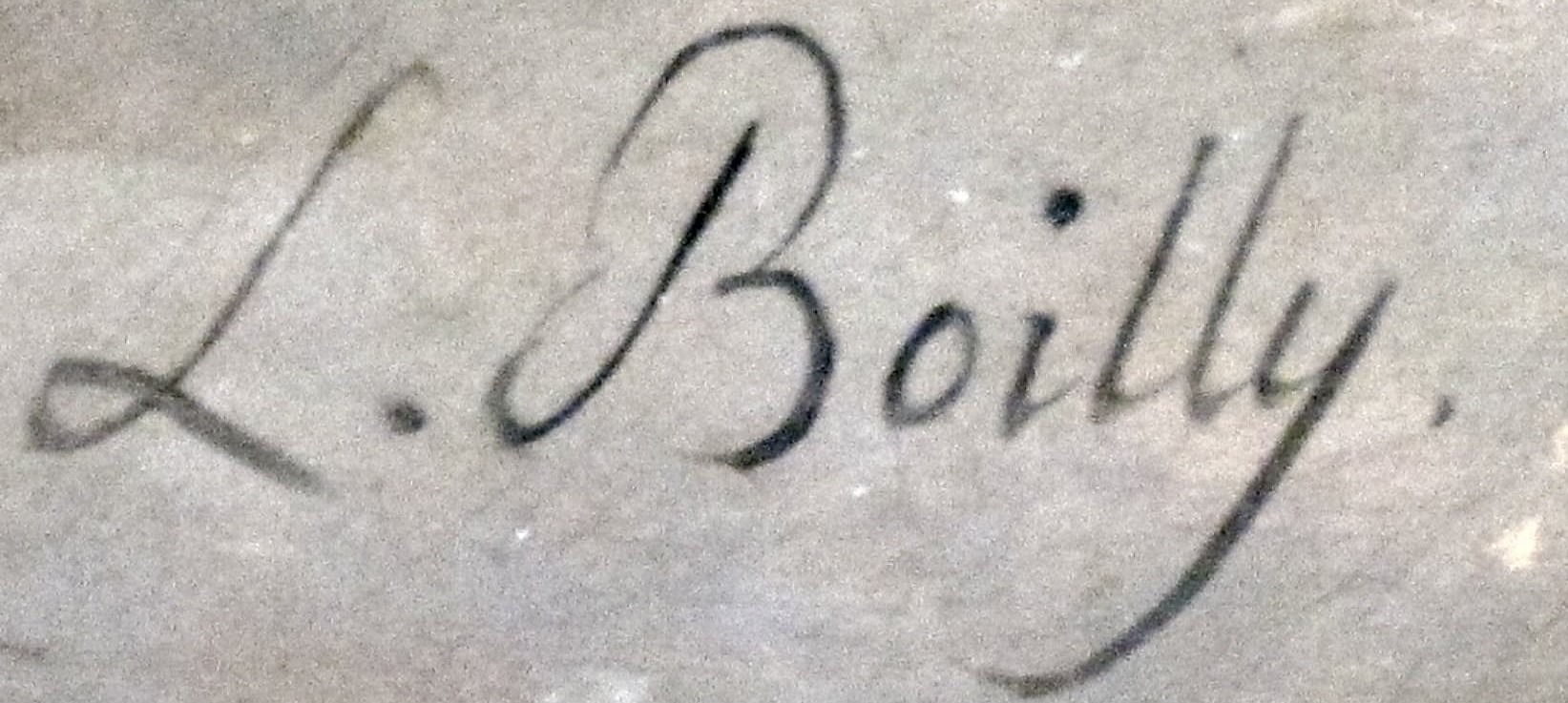 Appraising and selling a piece by Louis Leopold Boilly
If you own a piece by Louis Leopold Boilly or any other object, ask for a free estimate via our online form.
You will then be contacted by a member of our team of experts and auctioneers to give you an independent view of the market price of your piece. In the context of a possible sale, our specialists will also advise you on the different options available to sell your work at the best price.