Any questions?

contact@mr-expert.com
Do you own a piece by Mai Thu and would you like to know more about the work and its value? Our Experts will carry out a free appraisal of your painting, provide you with an estimate of the market price, and help you to sell it at the best price.
Status, price and estimation of the artist Trung Thu MAI
Price of a painting signed Trung Thu MAI: 4,000 – 100,000 €.
Estimate for a drawing or watercolour by the artist at auction: €10,000 – 400,000
If you wish to have a painting by the artist appraised, our experts are at your disposal for a free valuation.
The youth of Mai Thu
The artist Mai Thu, Mai Trung Thu by birth, was born in northern Vietnam in November 1906. His father was an important official with the rank of high court official in the former capital of Vietnam, Hue.
The young boy grew up in a privileged environment and attended the French Lycée in Hanoi, where he entered the École des Beaux-arts, founded in 1925, for five years. His taste for music was an integral part of his pictorial production, a passion that would accompany him throughout his life.
He was appointed professor of drawing at the Lycée Français, where he himself had been trained, a position he held between 1931 and 1937.
Well-born, the young man was promised an important career, but he chose to leave his country for France in the second half of the 1930s and devote himself to the arts.
In 1937, Paris hosted the International Exhibition of Decorative Arts. It was on this occasion that the students of the Hanoi school went to France. The sculptor Vu Cao Dam was one of the artists who decided to let themselves be tempted by the adventure, along with Mai Thu.
A classic and recognisable style
His style is influenced by his classical artistic training from the French painter Victor Tardieu. He works on a silk support, using a gouache technique that he applies by flattening and rubbing. The colours he uses in his compositions are intense, an intensity that acquires more character with time.
The representation of the family, the woman embracing her offspring, groups of children having fun or reading, works like a real time observation, taken on the spot, real snapshots of life.
Each one is treated with respect for classicism and tradition. An aesthetic in which the softness of the lines, the curved contours of the bodies and faces enhance the human figure and emotions.
Benevolence and family harmony are at the heart of his compositions.
Throughout his career, the artist paid particular attention to the framing of his paintings, which he liked to be meticulously worked and carefully decorated.
A limited diffusion
His output is not prolific and there are few collectors with a discerning eye for his output.
His works were exhibited on numerous occasions during his lifetime and into the 1980s, notably at the Galerie Vendôme.
Its dissemination is ensured thanks to the enthusiasm of certain specialists, and there is still an attraction for the artist's original works. He has been much less represented in the last decade.
Mai Thu's motif of children sitting cross-legged enjoyed a certain fortune through the dissemination of UNICEF's 'Aid to Unfortunate Children' campaign between 1960 and 1965.
The artist passed away in 1980.
Recognising Mai Thu's signature
Like many artists, Mai Thu did not sign all of his works. However, you will find below an example of the signatures to give you an idea. Variations of these signatures do exist, do not hesitate to contact one of our experts to formally authenticate a signature.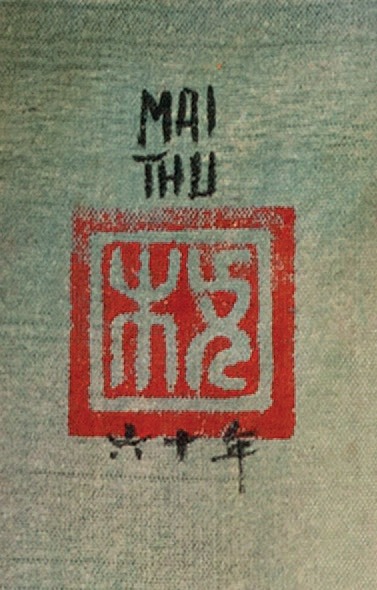 Appraise and sell a painting by Mai Thu
If you own a Mai Thu painting or any other sculpture, ask for a free estimate via our online form.
You will then be contacted by a member of our team of experts and auctioneers to give you an independent view of the market price of your painting. In the event of a sale, our specialists will also advise you on the various options available to sell your work at the best price.