Any questions?

contact@mr-expert.com
Do you own a piece by Mark Tobey and would you like to know more about the work and its value? Our Experts will carry out a free appraisal of your painting, provide you with an estimate of the market price, and help you to sell it at the best price.
Status, price and estimate of the artist Mark TOBEY
Price of a painting by Tobey: 1,000 – 350,000 €.
Estimate for a drawing or watercolour by the artist at auction: €1,000 – €500,000
Artist's quote for a print: 100 – 2,000€.
If you wish to have a painting by the painter appraised, our painting experts are at your disposal for a free valuation.
A promising start
Mark Tobey was an American painter born on 11 December 1890 in Centerville (Wisconsin), he died on 24 April 1976 in Basel.
From 1906 to 1908 he attended the Art Institute of Chicago. In 1911 he moved to New York where he worked as an illustrator for a fashion magazine. His first solo exhibition took place in 1917 at the Knoedler Gallery in New York.
In 1918, Mark Tobey converted to the international Baha'i religion, which proclaims a spiritual unity of humanity.
Four years later, in 1922, he moved to Seattle where he taught at the Cornish School of Allied Arts. There he met a Chinese student and painter, Teng Kuei, who introduced him to calligraphy.
A work of varied inspiration
The artist went to Paris in 1925, which marked the beginning of a period of travel. In the Middle East in 1926, he became interested in Arabic and Persian calligraphy. On his return to Seattle in 1928, he co-founded the Free and Creative Art School.
From 1931 to 1938 he was artist-in-residence at Dartington Hall, a progressive school in Devonshire, England. However, he was regularly absent to continue his travels around the world.
In 1938, he returned to Seattle where, in addition to painting and teaching, he learned piano and music. The latter inspired his calligraphic work.
Mark Tobey's work became world-renowned when he had a solo exhibition in Portland in 1945. In 1951, at the invitation of Josef Albers, he taught art at the prestigious Yale University. That same year, his first retrospective exhibition took place at the Palais de la Légion d'honneur in San Francisco.
Recognition and acclaim
A solo exhibition of Tobey's work took place in 1955 at the Galerie Jeanne Bucher in Paris. The following year, he was elected to the National Institute of Arts and Letters and received a Guggenheim International Prize. In 1957, he began his Sumi series of paintings. These famous canvases are executed in Indian ink, which reflects his various inspirations drawn from his travels. In this abstraction, the artist sought a calligraphic style capable of translating the synthesis of universal communication to which he aspired.
In 1958, he received the City of Venice Painting Prize at the Venice Biennale the following year. The artist moved to Basel in 1960 and in 1961 he was the first American painter to be honoured with a solo exhibition at the Musée des Arts Décoratifs in Paris.
Now considered the pioneer of American abstraction, Mark Tobey is best known for his "white writing" paintings in which calligraphic symbols intermingle and overlap with numerous fine brushstrokes. This is precisely the case with White and Rose (1965), which was sold for €533,744 at Christie's (London, 21 June 2011). Other works of this type, such as Structure for time (1959) sold for €367,019 (Christie's, London, 14 February 2014), reflect Mark Tobey's masterful influence on artists such as Jackson Pollock.
Mark Tobey died on 24 April 1976 at the age of 84 in Basel, leaving behind a prolific body of work that would have a decisive influence on the artists of the future American scene.
Recognising Mark Tobey's signature
Like many artists, Mark Tobey did not sign all of his works. However, you will find below an example of the signatures to give you an idea. Variations of these signatures do exist, do not hesitate to contact one of our experts to formally authenticate a signature.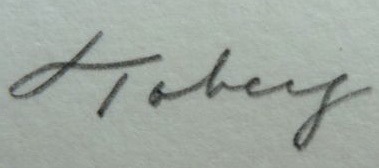 Appraise and sell a painting by Mark Tobey
If you own a Mark Tobey painting or any other sculpture, ask for a free estimate via our online form.
You will then be contacted by a member of our team of experts and auctioneers to give you an independent view of the market price of your painting. In the event of a sale, our specialists will also advise you on the various options available to sell your work at the best price.